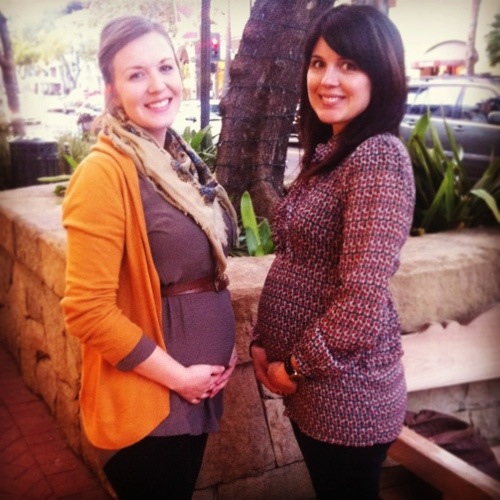 So, in case you guys are totally behind… I want you to meet Emmy and Teddy! We are calling them the two little pea pods. They are due 10 days a part and little Emmy belongs to my brother and sister-in-law!
When we found out we were pregnant, C&A had no idea that they were ALSO pregnant. My sister-in-law started noticing that some of the symptoms I was having, she was having too. She decided to take a pregnancy test and SURPRISE! They were having a baby!! We were all shocked and so excited.
Then, just this past week, they found out they were having a girl. So exciting! In a family full of boy cousins, Emmy is going to have her work cut out for her, but my guess will be that she'll be well taken care of and stick up for herself just fine.
It has been pretty awesome having someone to chat with about all the things we're going through and at the same time. My bestie Amy is also pregnant and has been a major rock for me during the first trimester which, as you know, was not so fun.
Growing up, it was such a blessing to be so close to my cousins. So, even though we're 2 hours away, it's extremely important to all of us that the kids know and love each other. We've already started up some Family FaceTime meetings and they have meant the world to me.
I can't wait to see these two pea pods grow up together and see their personalities form! They will fight, love, and teach each other so many things. I can't wait.
Here's to family!
Love,
Leelo and Ander +1