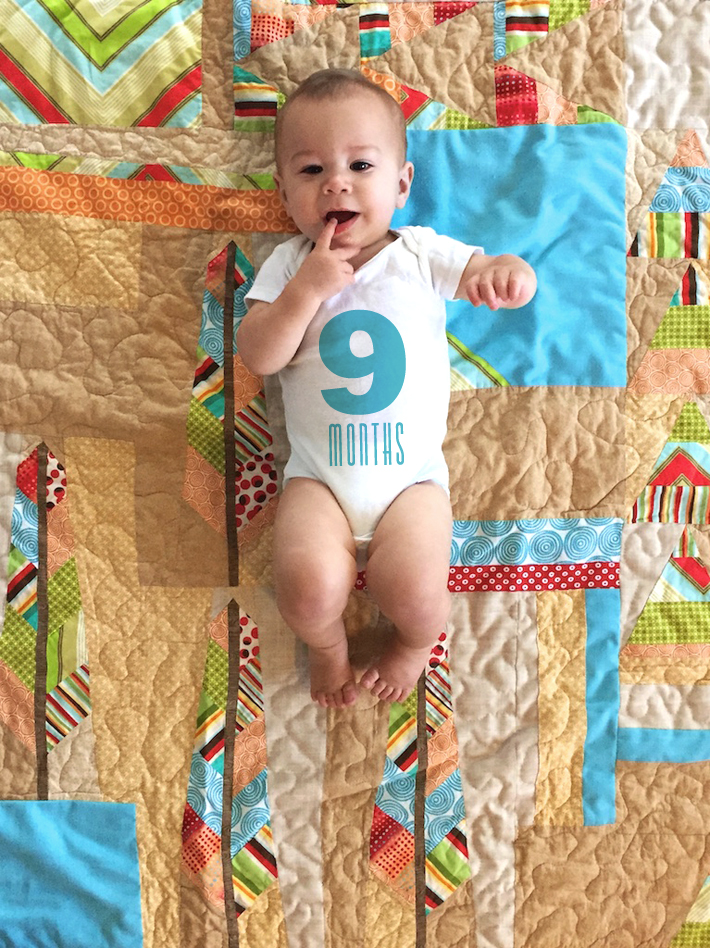 Sam,
We're about to finish out the year 2015 and enter 2016, where you will be turning 1 year old. How did this happen? You're already 9 months old. You've learned how to crawl, walk assisted, babble, speak some sign language, you've cut 7 teeth in total and you LOVE music.
All of these things about your personality and your specific preferences are developing — it's fascinating. I know that "every baby is different" is something I've heard forever, but I nievely thought that for the most part, the first year of a baby's life is pretty much the same across the board. It's not so with you! You are definitely your own, individual person with likes and dislikes, wants and needs. I LOVE it. I knew being a mom was something special, but wow. Getting to raise two boys with such different personalities is absolutely fascinating to me.
You don't like:
Eggs
Plain avocado
Anything you can't feed to yourself
Being left alone
Not being near your mama
When it takes too long between bites of food
You like:
Music
Exploring
Crawling
Shaking your head
Screeching
Screaming
Signing "more"
You love:
Food – all kinds, any kind. Except eggs
Dancing
Laughing
Peek-a-boo
"If you're happy and you know it"
Me (woot!)
*          *         *
This past month we celebrated some of my favorite holidays with our littlest guy. Thanksgiving and Christmas. We always try and spend as much time as possible with as many family members as possible over the holidays. This means a lot of driving for us, but luckily both boys are champs in the car. We pretty much have a "Father of the Bride: Part II" map on which way to take depending on when we leave (does anyone else remember that part of the movie? Or is my type A, OCD organization showing?).
Thanksgiving was spent splitting the holiday between the two sides of our family. Meaning we get to eat two thanksgiving meals! YUM. We started with lunch at my parents house, gathered around a large table with delicious food and great conversation. We ended the evening with another delicious meal, The Peanuts Movie, and a private recital given by Nana and her guitar.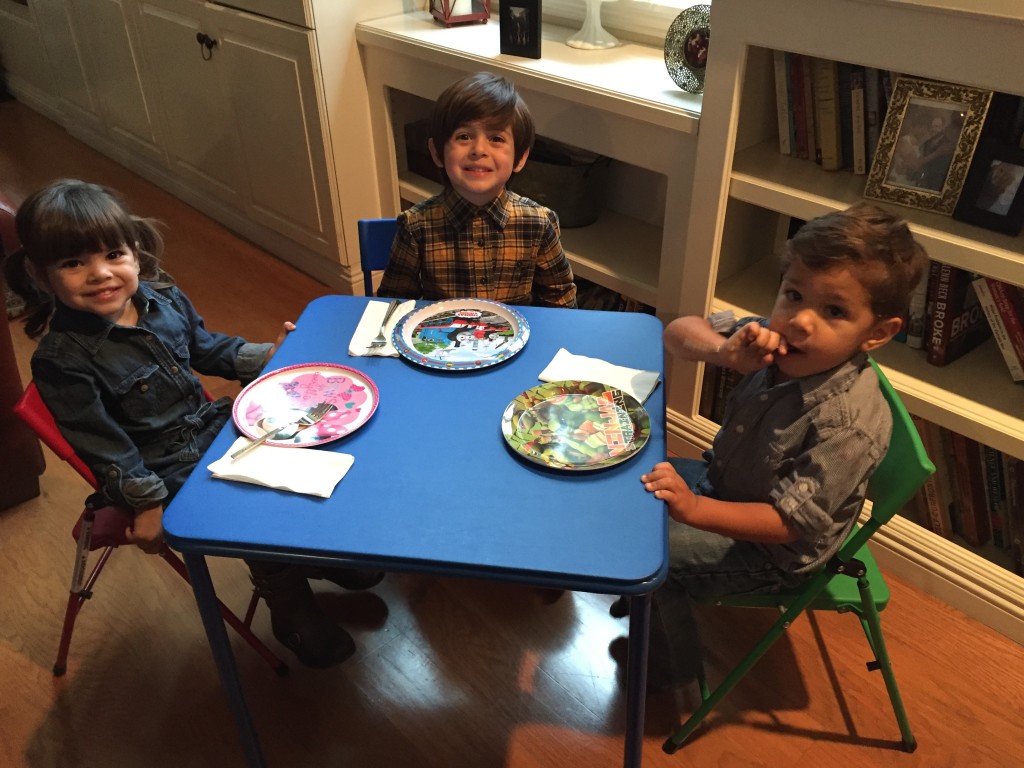 As we geared up for Christmas, everyone and their mother caught the flu! We did everything we could to avoid it and made it through Christmas without catching it… Until the day after Sammy's 9th month birthday. But, more on that later.
Sam went to Disneyland for the first time, this month! We liked it so much, we decided to get passes. I'm so excited to do, as my parents did, surprise us and say, "We're going to Disneyland!" on a random day. Even though Sam is about 2 months older than Teddy was when he went, Sam wasn't overly enthusiastic about Disneyland. He's so go with the flow that it's pretty much what he did for the two days we were there. He enjoyed the rides well enough, but I think he's going to be out little observer — taking things in an not being overly expressive. Don't get me wrong, this kid radiates joy, but he's definitely one to think about how he feels before expressing it.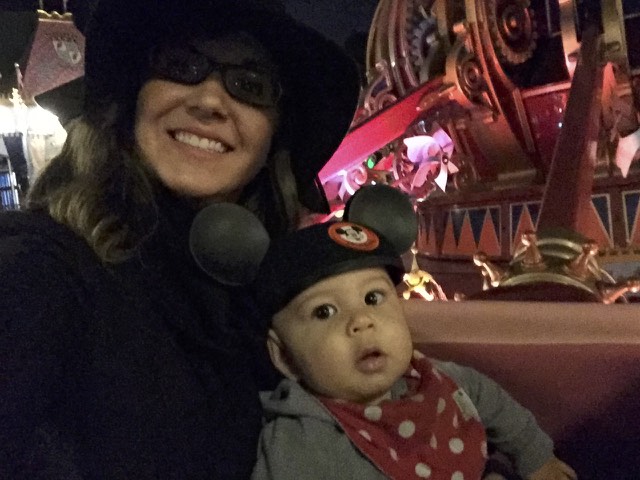 Christmas, each year is SO fun! This year though was extra special. We spent as much of December as we could celebrating Christ's birth by reading stories from the bible each morning, making Christmas cookies to pass out to the neighbors, sipping hot chocolate, driving to see Christmas lights, and listening to endless Christmas music.
A new tradition we started this year is seeing the LA ZOO lights. It was only $12 for us to go, after hours at the zoo. Over 1/3 of the place is decorated for Christmas with lights, songs, a water show, reindeer, Santa, and more! The boys stayed up pretty late but it was a blast.
Christmas Eve, we have a church tradition — the candlelight service. I led a small group of our kids from Children's Ministry in a song on stage. Our pastor read a story to the kiddos and we all lit candles and sang Christmas Carols. It's about a homey as you can get between the carols, kids running around and the homemade cookies everyone brings.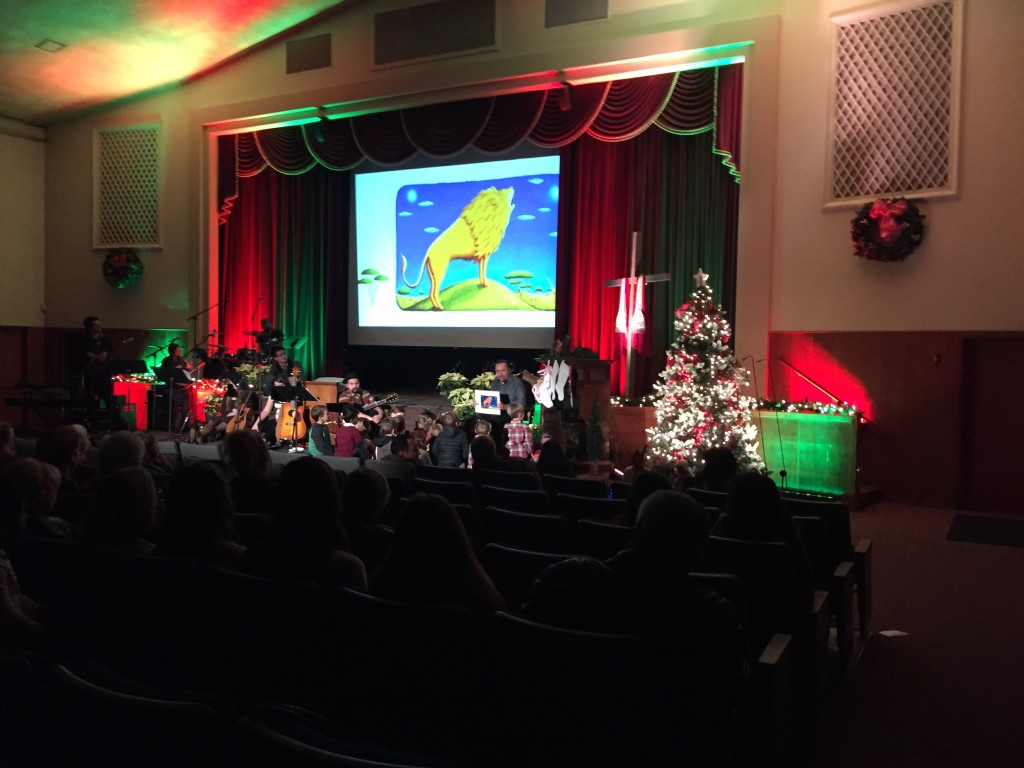 This year, our Children's Ministry decided to raise funds and take present donations for a family that is living in a near by hotel. At the Thanksgiving lunch the church provides, we found a great family and began to pray about how we could give them a little Christmas cheer. The response was overwhelming. Between kiddos who donated their allowance to parents who purchase gifts, above and beyond what was asked, we were able to give a family gifts for Christmas on Christmas Eve! It was a blessing to be used in such a beautiful way and I know the kids were blessed to be a part of it.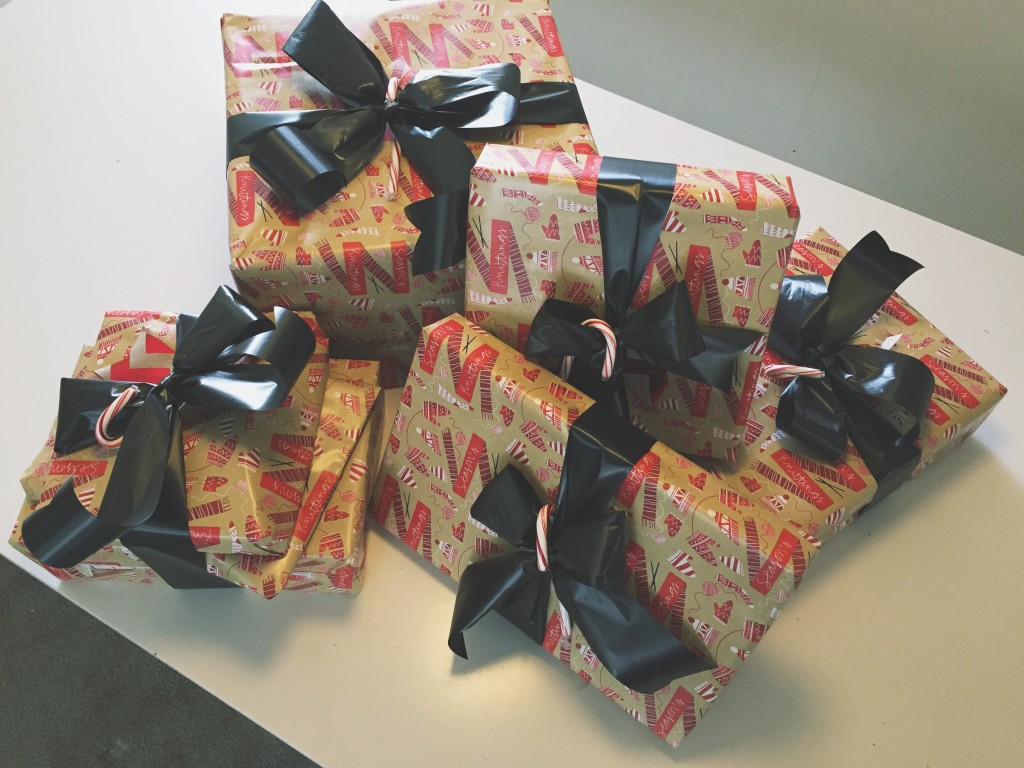 After Christmas Eve service, we always order Toppers Pizza and open presents with Auntie Jonna. She outdid herself this year with a mini drum set for Sam and wearable, color-able T-Rex for Teddy, plus so much more.
Christmas morning was interesting. Sam woke up at 5:00, but Teddy slept in until 6:45. We only had one large gift for each of our boys so, we were anxiously awaiting the time Teddy would wake up and we could open gifts together. I always make my special hot cocoa recipe in the morning and I ALWAYS burn it. This year was NO different. The boys were finally all awake and walked/crawled down the hall to their gifts. Sam had a ride-in car with some stacking cups and Teddy received a balance bike with a helmet and pads. Both boys loved their gifts.
We then, split the day with family! The Lopezes first and then the Thomazins. Opening presents with kids is a riot. These kids are so sweet, hilarious, and radiate joy. We started the day off with brunch and then went straight into presents. Spending time together, watching the kids open gifts and then play with them outside happily has got to be my most favorite part. We all sat around the fire drinking coffee and watching the kids play with their new toys. We rounded out the day with a gift exchange, more delicious food and more hot cocoa. So much laughter, family stories, and recipes were shared.
There's something about going home for Christmas, isn't there? You walk in, smell the familiar smells, tasty food, warm voices and every single Christmas of the past comes flooding back. I wish I could bottle up that feeling, or capture it somehow. That way in the dreary, not so warm Christmasy times I could pull it out and inhale.
Here's to another month and a new year!