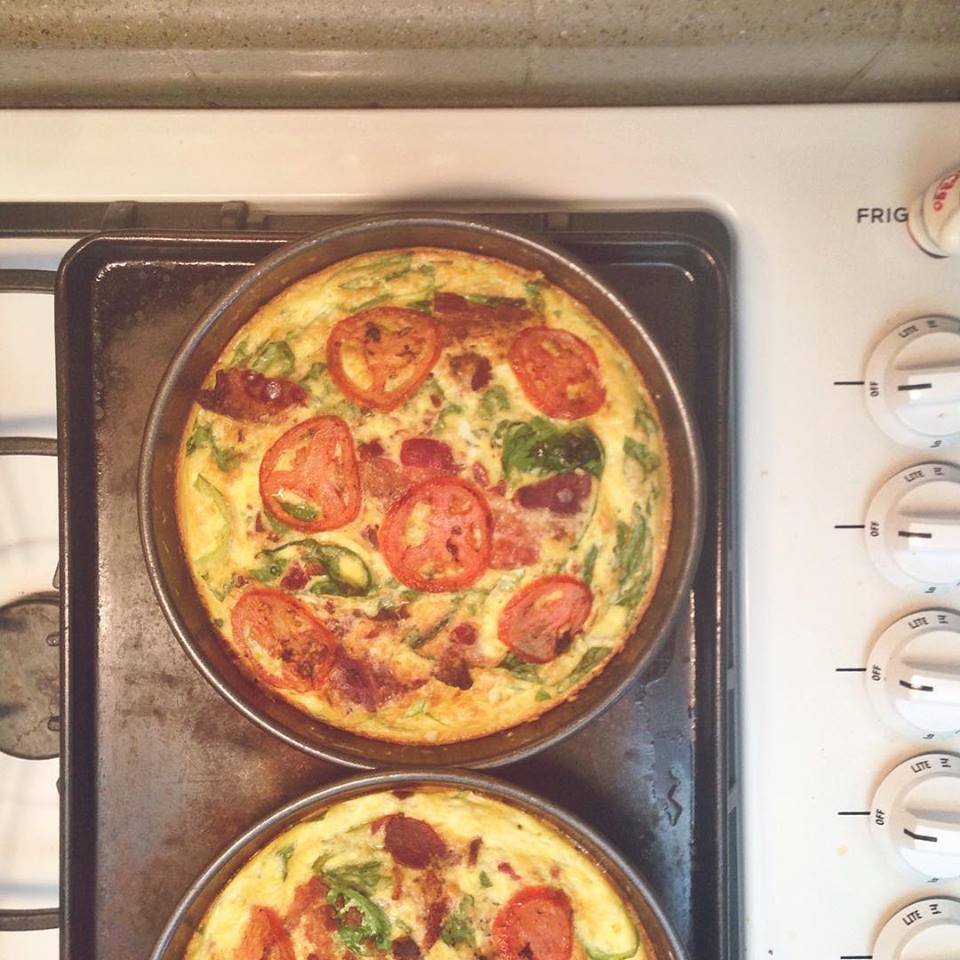 It's been a year since I posted a recipe, and the last one was inspired by my Grandmother's Banana Bread. This recipe is ALSO an inspiration of one of my Grandmother's recipes as well. Her's is called a "Chili Cheese Puff" and it's unbelievably tasty. I would ask for that and her "Potato Casserole" for my birthday — instead of cake.
This recipe is a more flexible version of her "Chili Cheese Puff" and has less cheese and no chilis.
My favorite part about this recipe is (well, two things): 1) Your toddler can help you make this and 2) you can make it at the beginning of the week and eat a slice a day! An easy and fast breakfast that my kid loves.
Serves: 12
Prep Time: 15 mins
Cook Time: 45 mins
What You'll Need:
BASE –
1 dozen large eggs
1 16oz container of cottage cheese
1/4 cup of four (optional)
Salt
Pepper
A 9×13 pan or 2 cake pans
A large bowl
ADDITIONS –
4 strips of cooked bacon
3 handfuls of spinach
1 roasted tomato
1 red/orange/green bell pepper
1/2 chopped onion
What I love about this recipe is that the base stays the same, but you can make it your own by adding pretty much any vegetable you have on hand. Green beans? Sure. Want more cheese? Throw it on top.
What You'll Do:
Preheat oven to 350°F. Oil a 9×13 baking pan or 2 round cake pans.
Take up the large bowl.
Crack and whisk in the entire dozen eggs. Sprinkle in salt and pepper.
Dump entire contents of cottage cheese container. Stir.
Whisk in flour (optional).
Add in your desired veggies, one at a time and stir them all together.
This is where having your toddler helps is great! In fact, studies have shown that kids who help prepare their meals are more likely to eat them AND more likely to try new things.
Once everything is mixed, pour the mixture into your desired baking dish.
The two cake pans will cook easily in 45 minutes. The larger baking sheet may take closer to an hour. 
Place your baking dish in the oven and set your timer for 45 minutes! When a knife can be inserted into the middle of quiche and come out relatively clean, it's done!
Enjoy!