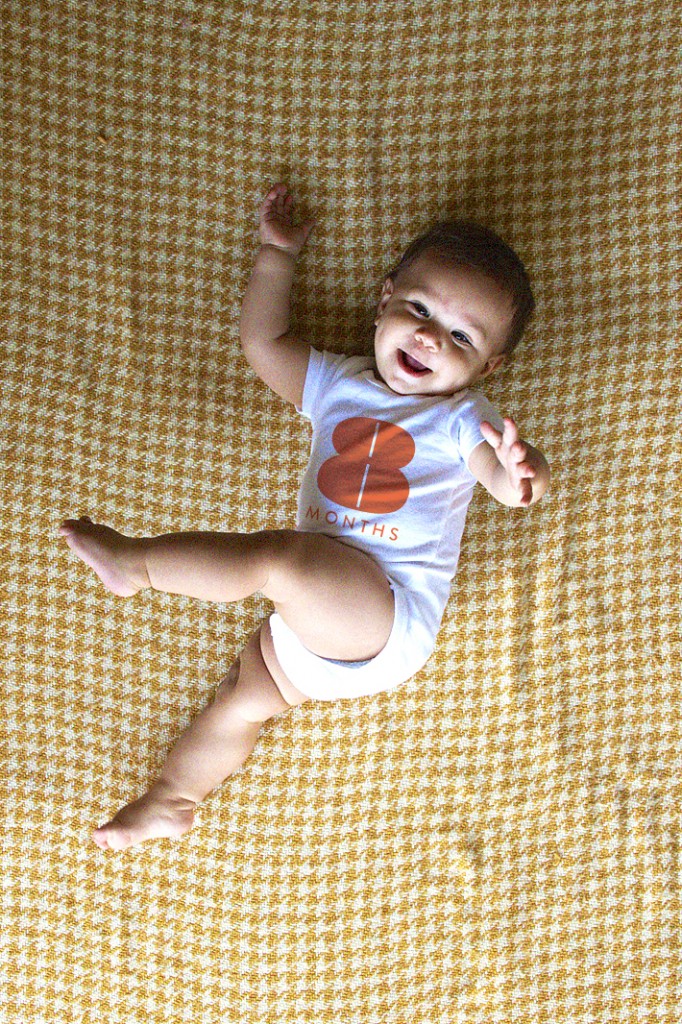 Teddy, this past month flew by! Between Christmas, New Year's, My birthday and Daddy and My anniversary, we've had a crazy month. You, still, never cease to amaze me. You are so warm and sweet. You are much more mobile now, so cuddling is rare, but you've started to show your preference for me and you kiss me a whole lot! You absolutely adore your Dad. Every time he comes home for lunch or home from work you leap from my arms and squeal as you crawl towards him. It's the sweetest thing. You and Boone are best pals now. You love to give him treats and you're learning to give him space — sort of. This month you got two new top teeth and you learned how to stand on your own for 10 seconds! I think you'll be walking by nine months and then, I better watch out! Oh, and in other news, you slept through the night TWICE this month. Thank you for the 8 hours Teddy!
*          *          *
This past month, seriously has been a whirlwind. Where do I begin? First, we celebrated Teddy's first Christmas and New Year's Eve/Day! We had a blast opening presents and sharing special time with family. I can't wait to see more cousins enter the picture and see these little ones share memories as they grow. Some of my closest friends are my cousins. I cherished growing up with them and I love them dearly.
This month we had quite a few adventures. The first was an overnight stay with friends from church. Alex's company hosts an annual party and this year I was able to help put it on! It ended up being an overnight trip so we had some dear friends from church offer to watch Teddy for us. I was nervous, but I knew they could handle it. Alex and I had a blast! Teddy on the other hand gave our friends a run for their money. I hope they still want to have children. He didn't drink any milk for 12 hours — he just refused. Finally, they were able to get him to drink at 3:00 am and he drank 9 oz. Geesh. Still, they told me they had a fun time and they still love us, so that's good.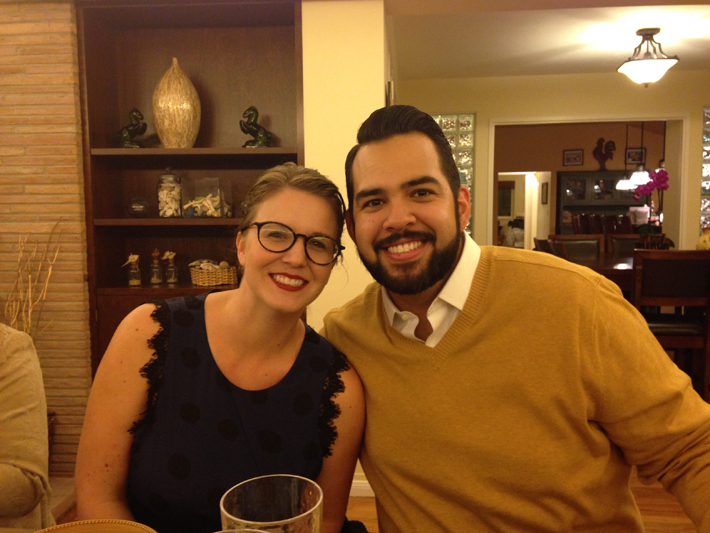 That same weekend, Auntie Am, Uncle Trav, Camden and Tenley came for the weekend. Trav and Amy had a wedding to attend so Alex and I watched all three kids. Well, first Jonna and I watched them at her place because I lost my keys and couldn't get into our apartment. Doh. Then we trekked over to our place and watched the kids go crazy in our tiny apartment. It was so much fun. When Trav and Amy got back we took out two blow up beds and made a giant one in the middle of the living room. Tenley was so excited. She kept bouncing on the bed and yelling, "This is the best night EVEEEERR!" Trav and Amy didn't have the greatest night sleep, but I loved having them here! Next time I promise you won't end up on the floor, freezing, sorry guys!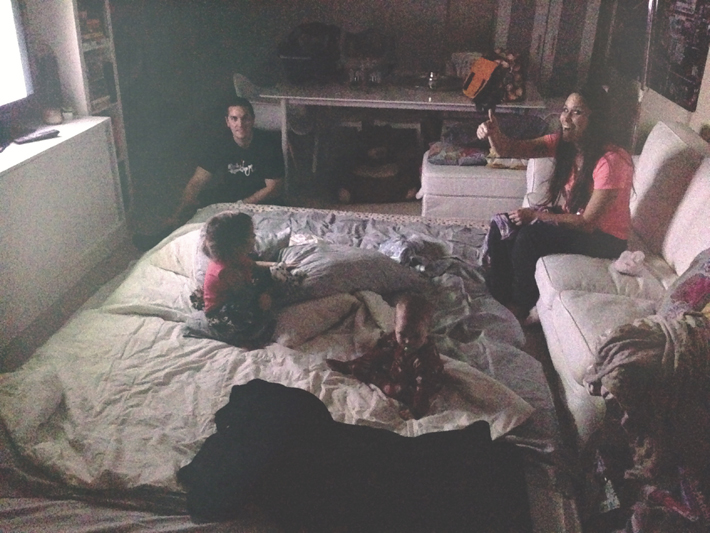 The weekend afterward, we drove to Mission Viejo to visit our dear friends Ali and Ashley. They are the parents to our godson Jaxon. Jaxon just go a new baby brother, so we had been dying to meet him. We drove over and they took us to a really fun petting zoo in San Juan Capistrano. Teddy loved feeding all the different animals and playing legos with Jackie.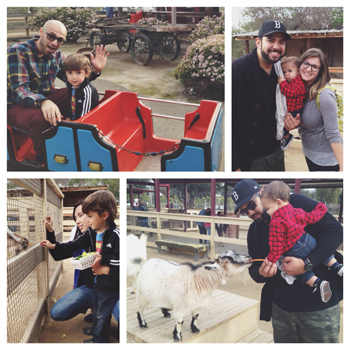 Next, was my birthday! My first birthday as a Mom. I don't know why Father's Day, Thanksgiving, Christmas or New Year's didn't really have the effect I excepted on me — but my birthday seemed to just become a super emotional thing. Ever since I was a young girl I'd wanted to be a mother, and here I was a mother. Turning 28, standing in my kitchen with my two boys, the best birthday presents ever. I was overcome. Too top it off, both boys brought me breakfast and each gave me a birthday card. Teddy's was my favorite.
Then our small group surprised me with a little shindig at one of my favorite places Stonehaus in Thousand Oaks. We enjoyed and evening of baguettes, wine, cheese, olives, and lots of birthday questions. Sarah, our fearless leader, always has a bunch of birthday questions that she asks the honorary birthday person and I personally love them.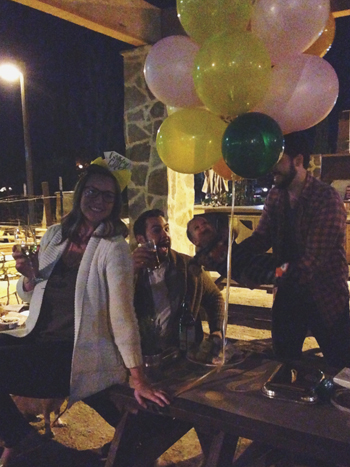 I can't forget to mention my bestie. Who drove what was supposed to be a 45 minute trip for both of us, and because of traffic and accidents turned into an hour and half trip for us both. We were supposed to meet up at a Kids Museum in Pasadena. It's supposed to be super fun, but we didn't realize that it's closed on Mondays. Literally, the ONLY day it's closed. Shoot. We made it work and approached some of the moms at the park nearby to ask what we should do. They recommended "Amy's Place" in South Pasadena. It's an indoor play place for the kids and man did they have a blast. Amy and I got to talk and eat our sandwiches in peace while the kids ran, crawled, and frankenstein walked (Camden) around. I love those Cotsenmoyers.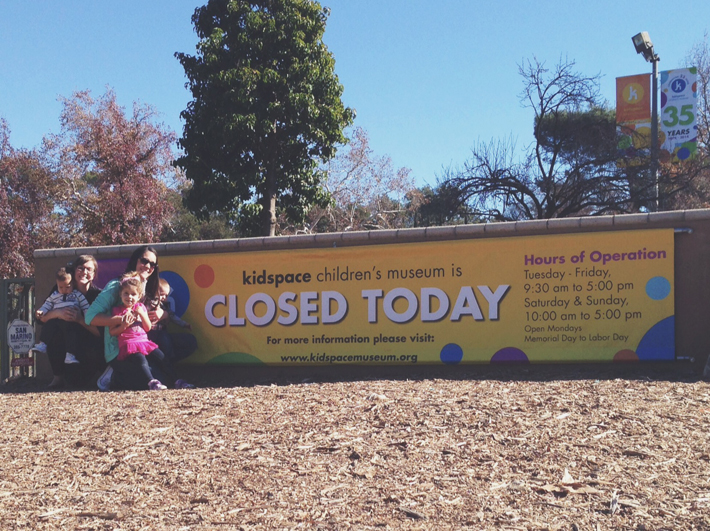 Then, came our anniversary weekend. I learned my lesson on the bottle situation and decided to solely pump for the two weeks leading up to our BIG anniversary weekend. We had planned to go out of town for 2 days while my Mom and sister came up to watch Teddy. I was nervous I wouldn't have enough milk, but I was able to get Teddy to take a bottle for the whole two weeks prior and I even cut the milk with some formula. The day arrived for us to leave and I nervously made the 5 hour drive to Monterey with Alex. It's amazing how Dads can just "checkout" after they kiss their kids goodbye, isn't it? Alex was all relaxed and excited for the weekend as soon as we left. It took me a good 2 hours into the drive to finally jump on the road trip karaoke bang wagon. But, I finally did and we ended up having a wonderful trip! I definitely need to do a whole post dedicated to all the amazing things we did. First, we stayed at John Steinbeck's cottage — it was magical. We visited quite possibility the coolest aquarium ever,  we had pancakes bigger than the plates they were served on, and ate sorbet from an ice sculpted swan. Come Sunday, I was really missing the Bubbas so we made the 5 hour trip back. Teddy wasn't even mad when I picked him up, which made me so happy. Grandma and Auntie Jules had a great time too.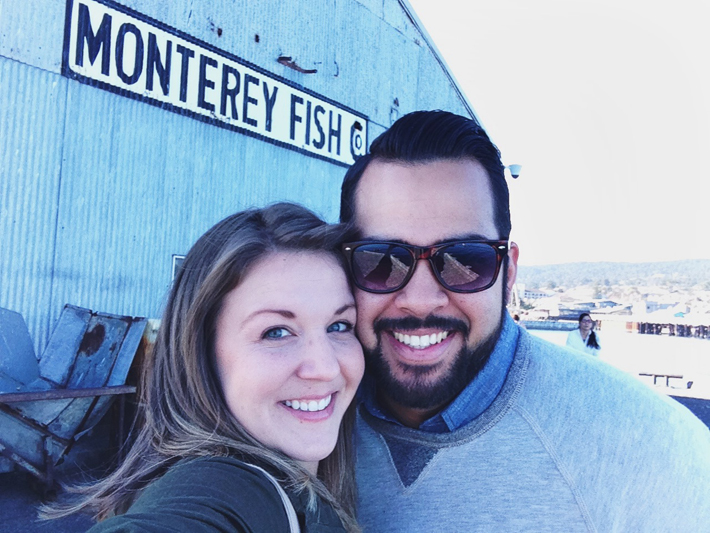 I can't say enough how thankful I am for great friends and family who love and take of us so well. We are blessed.