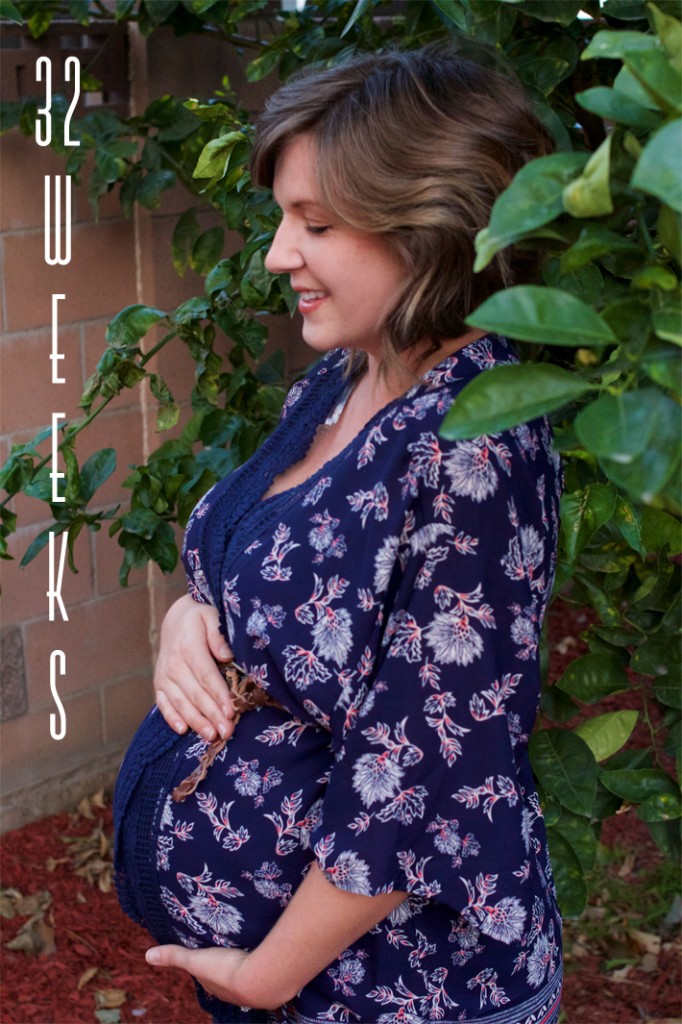 Baby! You are a big one and your mama is getting bigger and bigger. You've been all over the place lately, giving me heartburn and moving around a lot at night when I'm trying to sleep. I feel you move even more so than I did with your brother at this stage. I can actually feel your elbow or your foot when you kick and you leave it there for a long time. It's almost as if you're reaching out, wanting to come out. I wish you would! I'm trying so hard to rest as much as I can and enjoy this time where I can keep you safe inside me, but boy… the bigger you get and the bigger I get, the more I want you out!
You aren't shy like your brother was. Anytime I hold someone's hand to my belly you are sure to put on a show and I love it! I love having you so close and I love that you wiggly like crazy when you hear your Daddy's voice.
Only 7 more weeks until we get to hold you! I can't wait.
*          *          *
Wow! 7 weeks left. So long and yet not at all. Almost two months but then it's really not! I can't believe this pregnancy is almost over. So much has happened this past month. Alex and I celebrated our 7 year anniversary and I turned 29. My parents met us in Pasadena the weekend of our anniversary and took Teddy for two days. In those two days, Alex and I tore it up at the house! We painted, scraped wall paper, binge watched FRIENDS on Netflix, and got the baby's room ready. It was a precious time together and the house looks so great!
We also had some many random mishaps this month. My tire went flat after I ran over a nail, my back brakes were shot, Alex's car broke down, and the plumbing under the sink went kaput! With each thing, came a bill or some money that needed to be spent but God provided through the month for us. We even found out Alex's school loans are starting up again, since he graduated and that my medical bills for the miscarriage are not finished being paid, as we had hoped. AND, our flood insurance isn't accurate and needs to be updated. We know this house is a blessing and we know that purchasing it was the best thing for our family, but man. When thing after thing piles up… it sure makes you wonder. In those times, its so important to remember what's most important. We have our health, clean water, clothes, food, a roof over our heads. Even if it's tight, even if we have to use all our savings for these last minute mishaps, God has provided and has kept us safe. Even if He didn't, we would find a way to praise Him.
This past weekend, I was beyond blessed to have a shower thrown for me by my dear friend, Jonna. She commissioned my mothers, sisters, cousins, and best friend to help her pull off a beautiful shower in my honor. We spent Friday evening moving furniture, making centerpieces, and decorating until midnight. Then, Saturday morning we did all the prep for the food (which was DELICIOUS). A henna tattoo artist came and did full belly artwork on my baby belly, as well as art work on many other shower guests. There was mimosas, Italian sodas, quiche, scones, fruit and salad. I was blessed with all the gifts I needed to prepare for this little one and many of the guests decorated onesies for little Samuel or Eleanor. The decorations were beautiful and the company was even better. I couldn't have been more honored, blessed, or celebrated.
This little baby is craving milk and semi sweet chocolate chips like crazy. I have to limit my milk intake because I've discovered that it's what gives me heartburn! Also, I've had to cut carbs out of my dinner otherwise I'm up all night with heartburn as well. Peaches are also a craving I've had with this one, but I've noticed that my craving for brined food items to have gone down. I remember that could eat a whole jar of Spanish olives with Teddy and while, I'm sure I could, I haven't really craved them at all.
This baby, constantly has me guessing as to what he or she will be, but I still stand firm that it's a boy (at least at 80%). I had my 32 week appointment yesterday and we actually got an ultrasound! I had thought we were done with those. I've gained 17 lbs so far this pregnancy, which I'm happy with and Baby seems to be taking up all the space in my stomach as possible. The baby wouldn't even fit on the screen! He/she is SO BIG now. I thought I was looking at his/her head, but it was an eye! So crazy. And, the baby is laying sideways, which explains the kicking of my bladder whilst grabbing at my ribs. The doctor also said, the baby has a fairly large nose. Hah! How you can tell that, I'll never know but it's cool. Teddy's nose was pretty prominent too and it's literally the cutest little bear nose, ever.
Okay little one… If I don't make it to 36 weeks that would be fine with me! But, I'm guessing you're pretty comfy in there, so I'll see you when I see you.
Love, Mommy