Here is the long awaited post on Teddy's Room! Let's start with a little background, shall we?
Alex and I tried for 10 months to get pregnant, which is not long by many people's standards but was definitely a trying time in our lives. Anyway, we were originally living with a dear friend and we weren't going to be able to afford the same apartment without her, so we went in search of a one bedroom that was about $300 cheaper a month. We found one in Camarillo, 740 sq ft, wood floors, pet friendly, a large kitchen, BUT only one closet and hardly any storage. We knew if we were to get pregnant that it would be a challenge, but we thought it might continue to take us a while and we were running out of options. So, we went for it and signed a 15 month lease. Then, a month after we moved in, we found out we were pregnant! Thus, the transformation began.
Our little one bedroom has definitely turned into Teddy's place, but we're completely fine with that. Little kid stuff is uber cute and since we already had a sort of theme going in our room, we decided to expand on it for Teddy. Our "theme" for him is "adventure". We are hoping that Teddy has a global view on life. We want him to look past where he lives, the friends he has, etc. and seek adventure — so, we decided to flood the poor kid with subliminal messaging. We have travel posters, vintage finds, homemade treasures, globes, books and items from around the world to decorate his space.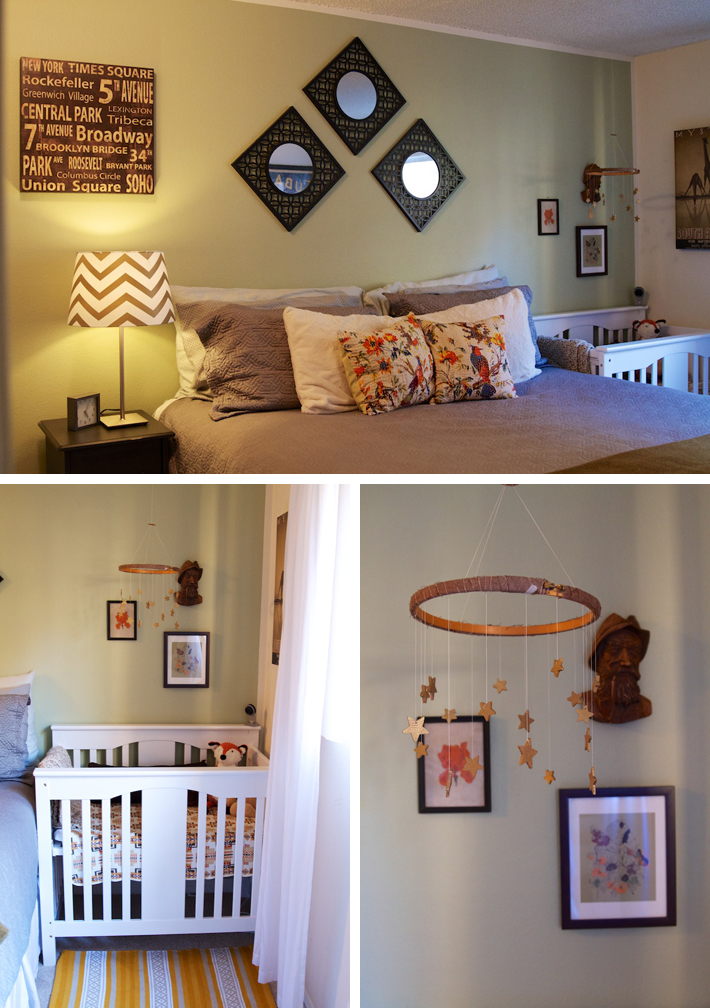 We decided to use our current dresser and transform it into a changing table, but we still needed the drawer space because we only have ONE closet! So, we also opted for a pegboard solution to hold onesies, diapers, and changing necessities.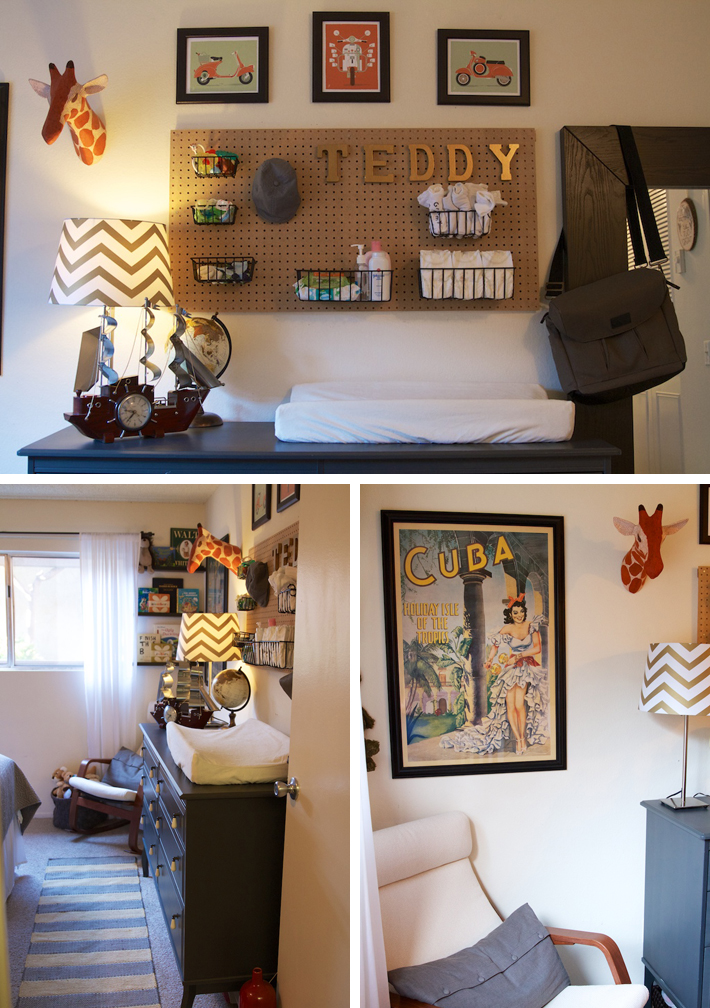 I really wanted a little reading/rocking area in the corner so we found an IKEA rocking chair and some small IKEA shelves to house some bedtime books. The lamp has a very dim light to read by at night and the basket next to the chair is full of stuffed animals and handmade blankets.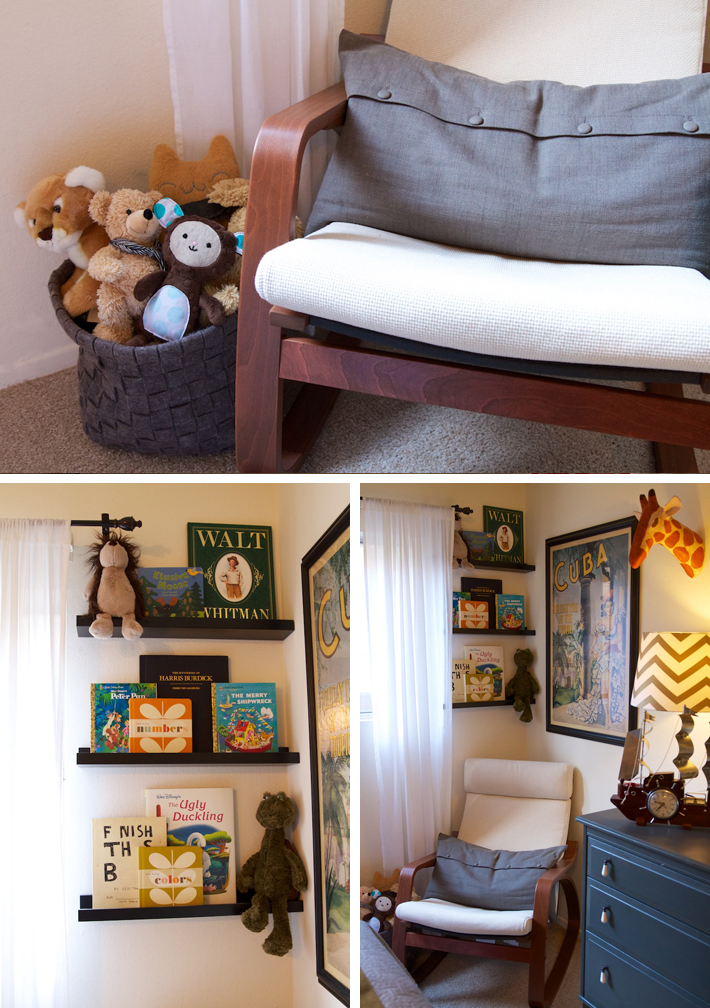 We also have some very unique and special treasures throughout the room. A vintage bust of a sea captain that we found in a store called "Treasure Island" in Santa Paula — if you get a chance to go, please do and say hello to the store owner, Robert. He was an ad designer in the 60's for Nordstroms and has some amazing stories. We also have a piece drawn by a friend Kyle Naylor called "Northern Bear". I purchased it before we knew we were pregnant in hopes that I could put it over our little baby's crib. Check out his stuff, here. I also made Teddy's mobile. I wanted to continue with the adventure theme and imagined him camping outdoors and looking up at the stars. I used an embroidery hoop, some of Alex's Abuelita's fabric from her sewing box and painted gold stars.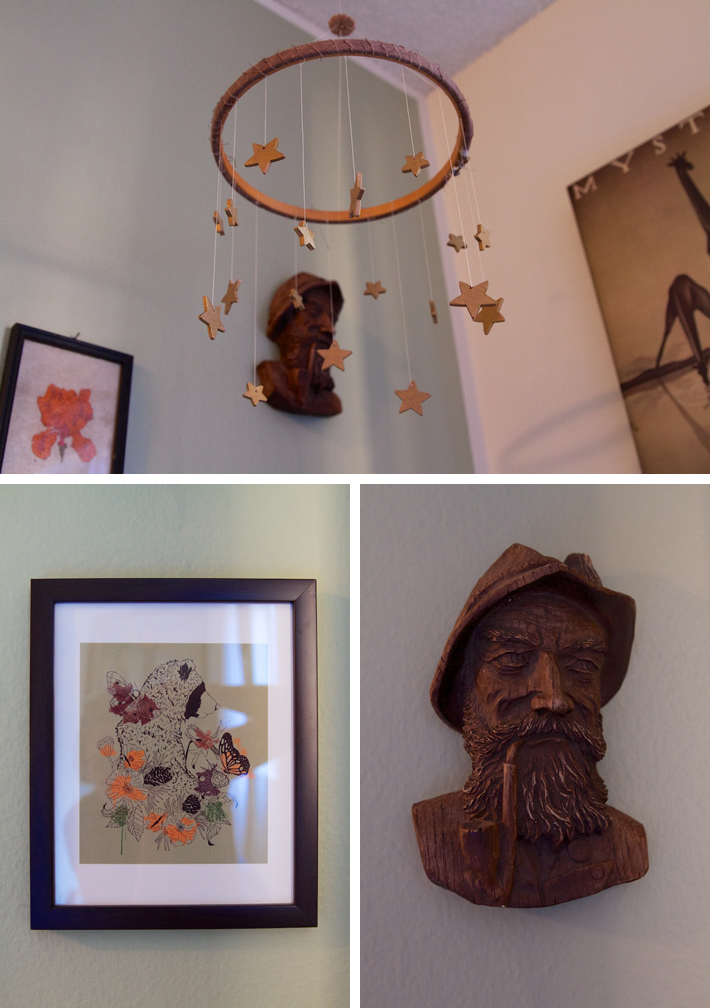 I also made a door hanger (for the front door) asking people to knock because Boone loves to bark when someone rings the doorbell. In addition, I wanted to include one of my favorite quotes from Disney's Up, "Adventure is Out There!", so I found a wood plaque at Michaels and drew it up. Finally, and probably one of my favorite details, is this vintage ship clock/nightlight. It belonged to Alex's Abuelito and his brother found it in the garage of their house. He gave it to us as a gift for Teddy. I'm not actually even sure what era it's from, but it still works as a clock and a night light!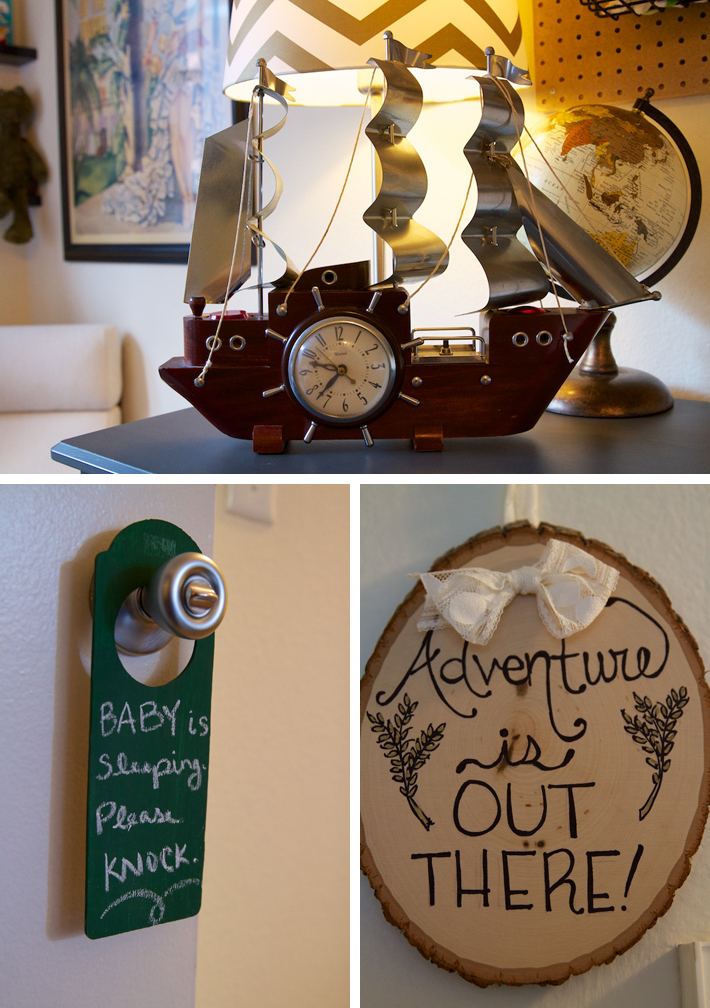 Now, where are we going to put all of this kid's clothes?! Off to the living room we go! Alex and I found a wardrobe from IKEA that worked perfectly in the space; then purchased a bookshelf from IKEA as well, turned it on it side and made it a bench under the window. All of Teddy's clothes fit into the wardrobe and the bench houses his toys. Yay!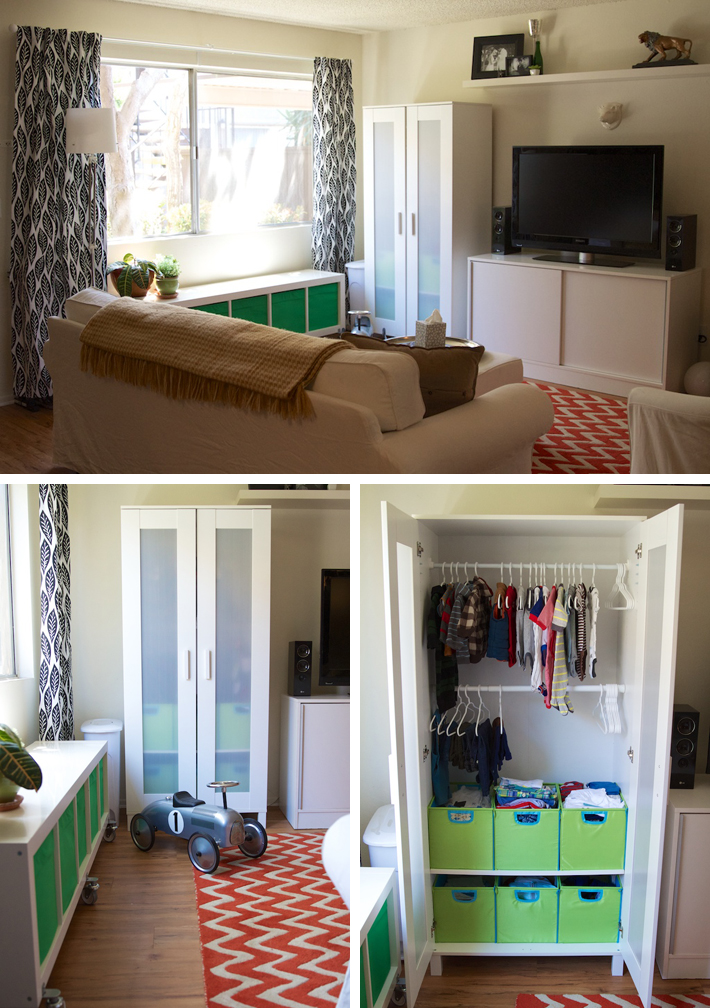 So, there you have it folks! I hope you enjoyed the little tour of Teddy's space. We can't wait for him to make a complete mess of it all and I'm well aware that this is probably the cleanest my house will look until he's 3 and we make him do chores.
Only a few more days (hopefully) until we get to bring him home!