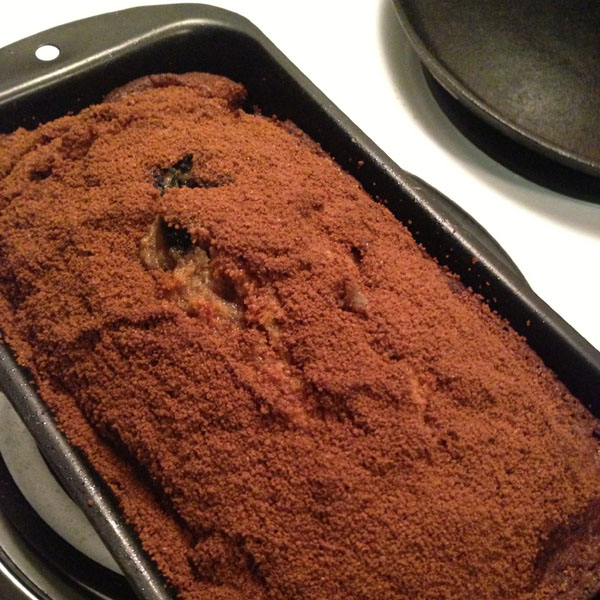 I've been craving banana bread lately. Maybe it's because it's summer and I used to spend lots of time at my Grandmother's house during the summer and HER banana bread is the BEST I've ever had. But, this isn't her recipe. I had planned on sharing her's with you, but then I realized it called for butter and I didn't have any… shoot!
I also wanted banana with a crumble topping like the spice muffins from Mimi's Cafe, so I set out to find a banana bread and crumble topping and found this one from bon appetit! I also decided that I REALLY wanted it to have blueberries so I added those to the recipe and altered the crumble topping a bit.
Serves: 1 (just kidding more like 10, but it could serve just one)
Cooking Time: 60 mins
What You'll Need:
1 1/2 cups all purpose flour
1 cup plus 2 tablespoons sugar
2 teaspoons ground cinnamon, divided
1 teaspoon baking soda
1/2 teaspoon salt
3 medium ripe or frozen (thawed) bananas
2 large eggs
1/2 cup vegetable oil (I used olive oil, because I'm fancy like that)
1/4 cup honey
1/4 cup water
1 (or two) handfuls of fresh or frozen blueberries
2 tablespoons brown sugar (I used Trader Joe's Organic)
What You'll Do:
Preheat oven to 350°F. Oil and flour 9x5x3-inch metal baking pan.
Whisk 1 1/2 cups flour, 1 cup sugar, 1 teaspoon cinnamon, baking soda, and salt in medium bowl.
Whisk next 5 ingredients in large bowl until smooth. Add dry ingredients; stir to blend.
Then, add those oh so tasty blueberries.
Transfer batter to pan.
CRUMBLE TOPPING:
Mix 2 tablespoons sugar, 1 teaspoon cinnamon, and brown sugar; sprinkle over batter.
Bake bread until toothpick inserted into center comes out clean, about 1 hour. Honestly, if it's not ready in 60 minutes, only add 2 mins at a time otherwise you'll over-bake it.
Cool bread in pan 30 minutes (Or don't. I didn't).
Enjoy!