This post is long overdue, but I've been so preoccupied with other life things that I forgot to post this!
Alex and I decided to do a combined anniversary and babymoon over our anniversary weekend in January. We struggled with deciding where to go; I wanted New York and he wanted somewhere warmer. We ultimately decided on Portland since we know quite of few people who frequent the city and love it. Some of you have been asking about all the places we ate and visited — wanting to have a list of great stops should you ever visit. So, here ya go!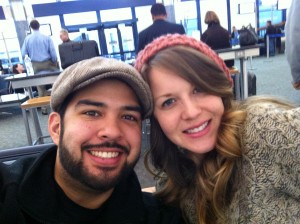 TRANSPORTATION:
We headed out on a Thursday and landed at the airport in the late morning. First, let me say it was pretty chilly but oh, so crisp. Second, public transportation in Portland was exceptional. We hopped on a shuttle that took us directly downtown to our hotel. Then, we continued to master transportation using the Google Maps app on our phones, which was extremely helpful and updated frequently. If we ever missed a bus, Google would tell us the next available route to where we wanted to go. Also, a day pass for the bus was only $5.00, much cheaper than renting a car. We were able to get to every single district downtown and even to church on Sunday using the buses and shuttles.
SIGHTS:
One thing that worked out wonderfully was that Portland doesn't have any huge landmarks or "must see" places. I was worried that I wouldn't be up for a ton of walking around and sight seeing, so it was wonderful that we didn't feel as though we missed out on anything just by walking around, heading into shops, chatting with folks, and eating — lots of eating.
Portland is broken up into districts: Pearl District, Northwest District, Lloyd District, Alberta Street, Hawthorne District and Belmont District. We could get to any district using shuttles and buses, so we broke up our days by district. We choose one district a day and decided what to eat and visit before we headed out. It made the days more enjoyable since we could just walk around the districts and eat whenever we felt like it.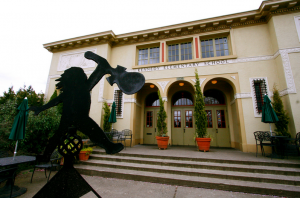 One place we did visit definitely had a "sight-seeing" value to it: McMenamins Kennedy School.
It is a refurbished school house turned hotel! I don't know if I could actually stay there (the rooms gave me the creeps), but the hotel has a movie theater, three different "bars/pubs", smoking rooms, a public hot tub (more of a huge soaking tub — think Roman bath), and lots of places to eat.
The decor keeps to the original age of the building and there are pictures of students, historical figures, and other interesting art pieces everywhere.
ACCOMMODATIONS: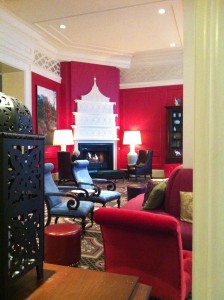 When we travel for our anniversary we try to stay at a particular branch of hotels call Kimpton. We stayed at a Kimpton hotel in Seattle, WA for our first anniversary and found them not only extremely comfortable but enjoyable.
The Kimpton in Downtown Portland is called Hotel Monaco. It is located in business district of Portland, which is close to the fashion district as well. The decor is quite modern and very eclectic. While I love that decor, it took a while to get used to and it was very bright at first. The rooms are very long and well laid out. The staff was very friendly and they even provided us with complimentary champagne to celebrate our anniversary. Housekeeping came every morning, the fridge was always fully stocked and we even indulged in room service one evening.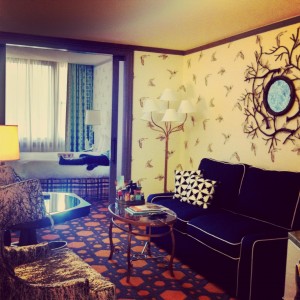 The hotel is pet friendly, which I find enchanting — though we didn't bring Boone with us this time. They also provided free bike rentals and two complimentary beverages: a hot chocolate bar fully stocked with toppings from 7:00 am to 10:00 am every morning and a champagne reception in the evenings complete with a piano player.
We meet some pretty amazing people in the lobby area and enjoyed the huge fireplace. I would give it 4 out of 5 stars — only as compared to the other Kimpton hotels we've stayed in past.
FOOD:
As I had mentioned, there aren't many "sights" to see in Portland so much of what we did included food. I won't list off every place we ate, but here are the ones that stood out to me: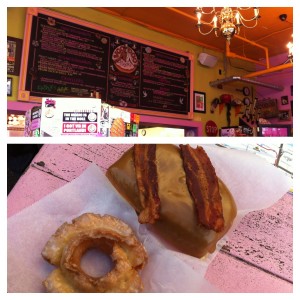 Voodoo Doughnut – If you miss out on visiting this place, you will be pretty bummed about it. When we were traveling back home we saw so many passengers with pink boxes from this place just dying to take some doughnuts home! The vibe is eccentric and loud so we opted to sit outside, but the doughnuts were delicious. I was boring and opted for an old fashioned but Alex ventured out and ordered a maple bacon bar. Both were very delicious. Keep in mind, it's cash only!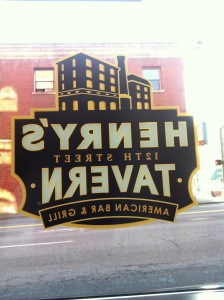 Henry's 12th Street Tavern – We came here to take advantage of their happy hour. We were able to purchase a pizza and salad, Alex ordered a beer, I ordered a coke and we even ordered an appetizer. If I remember correctly, the bill was under $30 and all the food was extremely tasty. Oh, and another great thing about Portland… NO SALES TAX! So the price you see, is the price you pay. I even felt as though we tipped more because we weren't worried about rounding up or percentages.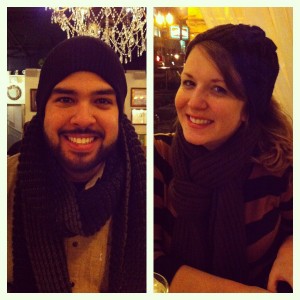 Mother's Bistro & Bar – This place is my Mother-in-law's favorite in Portland. The food is fantastic and the music they play was right up our alley (Jamie Cullum, Corrine Bailey Rae, and some Mayor Hawthorne). Don't let the "somewhat" outdated decor fool you — the food is amazing. Every meal comes with a huge biscuit that weighs the size of a toddler. We ate here once for dinner and came back the next morning for breakfast. You absolutely must get the biscuits and gravy!
Tin Shed – A pet friendly gardenesque atmosphere, but very busy in the afternoon right after church. They have a strict menu schedule on Sundays and serve only breakfast until 2:00 pm, so you cannot order lunch before then. The lunch menu looked delicious, but breakfast was great too! We split an eggs benedict and the eggs were cooked to perfection. You do serve yourself water and coffee (there are stations around the restaurant) so if you're looking for a full service place this isn't it.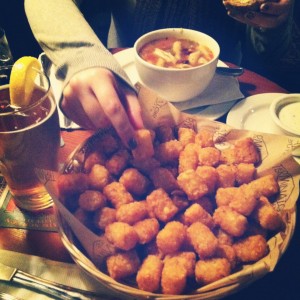 The Courtyard Restaurant at Kennedy School – As I mentioned before, this is a place you want to have ample time to explore. There is a theater, smoking room, soaking tub, gardens, and plenty of tasty places to eat. We decided on the Courtyard Restaurant after much walking around. It was busy, but they had a full service bar so we ordered our food there. The wait for a table wasn't very long at all, but this mama was VERY HUNGRY! We ordered cajun tater tots as an appetizer and they were delicious — I'm sorry that we're not sorry we ate the whole plate full. I then ordered a minestrone soup and Alex ordered a burger. Both were delicious. The ambiance was wonderful and the view overlooked the garden in the center of the school. We didn't end up making any of the movies but we found out later that you could order food and drinks before in the theater bar and take them into the movies with you! It is an absolute must visit.
Screen Door – Last, but certainly NOT least, was Screen Door. Luke and Hallie (friends of ours from California who relocated to Portland) took us here for dinner before our flight home. There was a line around the building before it even opened and we soon figured out why. The food was amazing — mostly likely the best southern/creole food I've ever tasted! Luke ordered the shrimp and grits, I ordered the mac n' cheese, Alex ordered pulled pork, and Hallie ordered a mixed plate of three different items. They have beers on tap to pair with the food and the service was great. If you can, and it's not too chilly, sit outside under the tin shed and heat lamps — the ambiance makes you feel like you're sitting in the south eating some of your mama's good home cookin'.
OVERVIEW:
We truly enjoyed our experience and felt as thought 5 days was just enough time to really take in all that Portland had to offer. We enjoyed Sunday morning service at Mars Hill Portland and found most everyone in the city to be friendly and helpful with suggestions.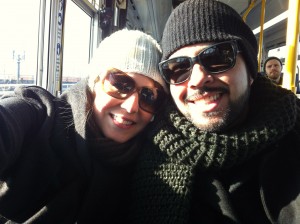 At first I was nervous about using public transportation, but we have always found that having to ask people for directions and relying on each other for help has made for a unique experience when we travel. We were able to meet some very interesting people and had to trust each other a lot — considering that neither of us knew where we were going half the time.
Every eatery we patronized was amazing. I would say it would be hard to find a place we didn't like and I strongly recommend all of the above listed.
Our hotel was in a great location; central to all of our travels to the districts and we often had down time for a bath or nap in the middle of the day before hitting the town at night.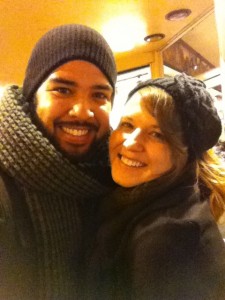 The weather was very cold in January (ranging from 30-45 degrees) but we enjoyed coffee and hot chocolate to keep us warm. I wore the same large jacket every day and bundled up in beanies and scarves. I really enjoy cold weather so I did not find that it inhibited our experience at all. If anything it provided beautiful scenery.
So, I would say Operation: Babymoon 2013 was a success! I hope you found this guide helpful and you enjoyed our video.
Teddy, you can go ahead and come now!