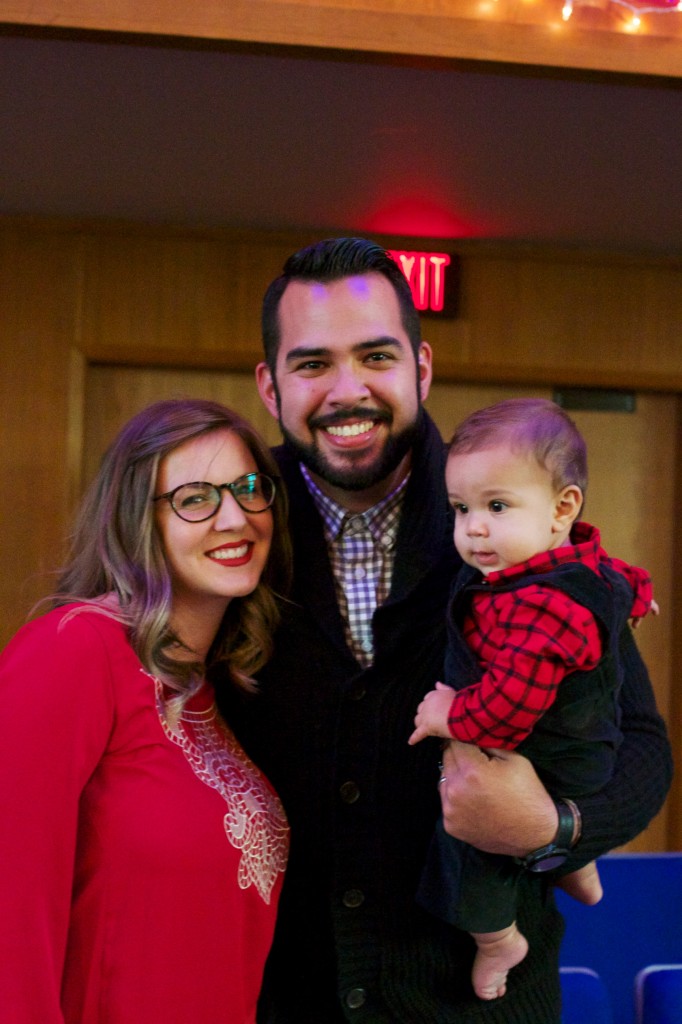 Growing up, Alex and I never spent Christmas together.  We always spent it with our families because we each had our own traditions and there's something sacred about that family time during the holidays. After we were married we really wanted to split the time evenly as much as possible and we still do to this day. So, Christmas is always crazy! So much fun, but crazy.  Now that we live 2 hours away it's even crazier. Oh, and we have a baby now too.
Our family has really been working on setting down roots here in Thousand Oaks. Part of that has been finding and growing with a church family. Boy, we have a great one. We decided to stay in Thousand Oaks through Christmas morning and then make the trek down to Riverside to see our families.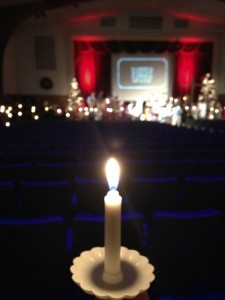 Christmas Eve service at church was magical. They had huge trees, poinsettias, lights, candles, and lots of music. I even was asked to direct the children's choir on one of the songs. The evening was spent singing songs together and lighting candles. It was wonderful. Then we went home, ordered pizza and exchanged gifts with Auntie Jonna.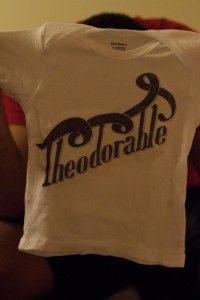 Teddy received so many cool gifts! including this "THEODORABLE" shirt.
Jonna went home to make the trek to Riverside herself, while Alex and I stayed up late setting up Teddy's toys and wrapping the remaining gifts before passing out.
Since Teddy went to bed so late, we thought for sure he would sleep until at least 7:00. WRONG! Teddy was up at 5:00 am! Just as usual. You would have thought he knew it was Christmas. Alex played with Teddy while I put on some Christmas music, started the hot cocoa and got the camera ready. Then, Alex had Teddy crawl out to see his gifts! A ball pit, block toys, and stacking toys too! I'm sure we were more excited than he was, but it was still so sweet to see his face light up.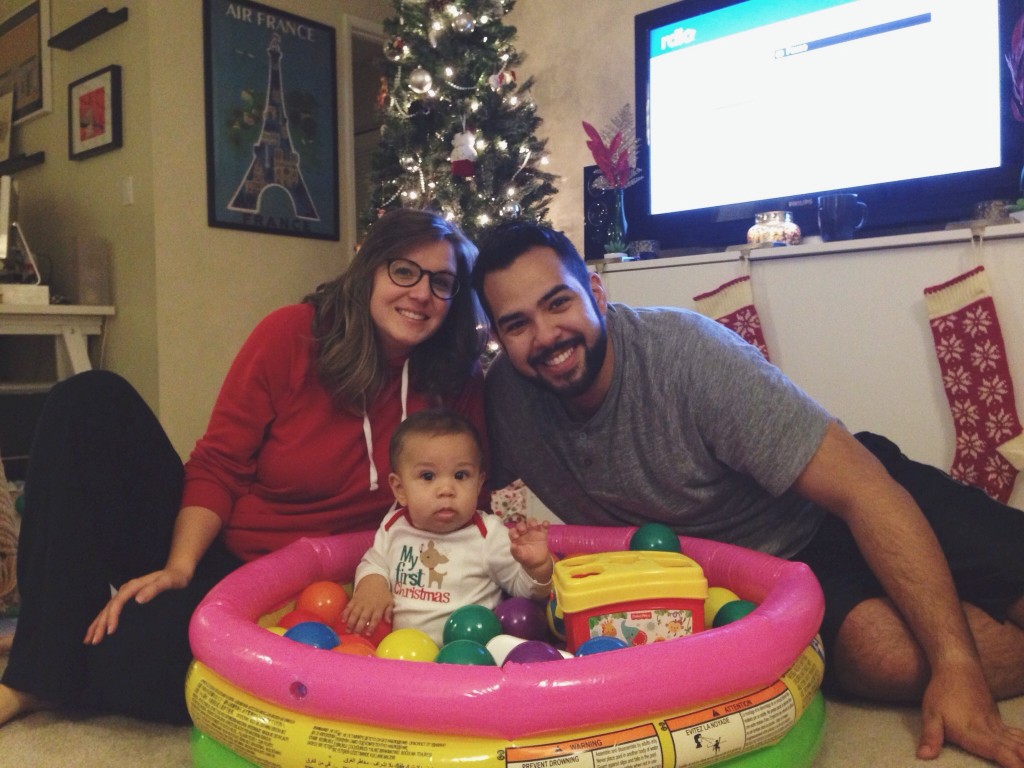 Alex and I both screwed up in the gift giving department this year by giving each other our gifts early. We decided to just make it a tradition now. Truth be told, I'm the one you royally messed up and Alex was the one to swoop in and turn it into a romantic gesture. That guy. Alex bought me a kitchen aid mixer, which I've been asking for three years for! I got him the 007 Trilogy and a new dvd/sound system to play it on. I accidentally left his gift out while I was wrapping the other presents and when Alex came home he say the movies out and said, "Who's THAT for?!"
"Crap. It's for you."
"YES! That's the best present EVER!"
"I know."
"But, it's Blueray."
"I know. I bought you a new dvd player to play it on."
"WHAAAAT?! YES!"
I was totally bummed and Alex was so sweet about it. I went out to get stuff for Children's Ministry and when I came back my Kitchen Aid mixer was out on the counter with a note that said, "Alex, don't forget to wrap this. Your pal, Alex."
I actually closed my eyes when I saw it on the counter thinking it was a mistake. So, we just decided to make it our tradition instead. We forget to wrap each other's gifts and the week of Christmas is fair game. We could receive our gift at any time. I think I like it this way. It's kind of a special thing between us and we can keep Christmas about the kids.
OK, back to our Christmas Adventure!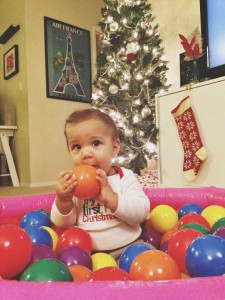 We spent the morning playing with Teddy's toys for a while, got dressed, drank our hot cocoa, ate breakfast, and packed up the car. Then, off we went to Grandma and Grandpa's house!
We arrived around 10:00 am and enjoyed a relaxing morning as family arrived slowly. Grammy and Pa, Aunt Julie Ann and Uncle Thomas, and Uncle Jonathan. It's so nice to have family who take your kid away for a little while so you can just relax. Even if the whole time you don't know what to do with yourself. How did I hold my arms before I had a kid? Why am I always swaying back and forth? Why am I cutting up my food into such tiny pieces for myself? All these questions and more.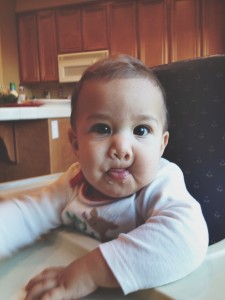 Anyway! We enjoyed a relaxing day, exchanging gifts and eating way too much food. Teddy was blessed with such fun toys and clothes. Alex and I were blessed as well! Our family started drawing names a few years back and it's so nice. We focus on the time together instead of opening a million gifts. Each adult has one other adult in the family, all the kids get toys from everyone. My favorite part of Christmas really is the eating and the hanging out anyway.
When rounded out the day with an evening at Nana and Papa's. Uncle Chris and Aunt Amber came with cousins, Julian and Emmy. Teddy and Julian are the cutest pair. Emmy is just the sweetest little thing. Teddy always has fun laughing with Julian and "talking" with Emmy. Since we have the three grandkids on this side opening presents is SO MUCH FUN! The adults draw names and of course we have fun opening those gifts, but the kids were just too much this year. The most hilarious thing was that the boy received tons of cars, planes, and boy stuff but they were the most interested in playing with Emmy's tea set. Heh. She didn't seem to mind much at all.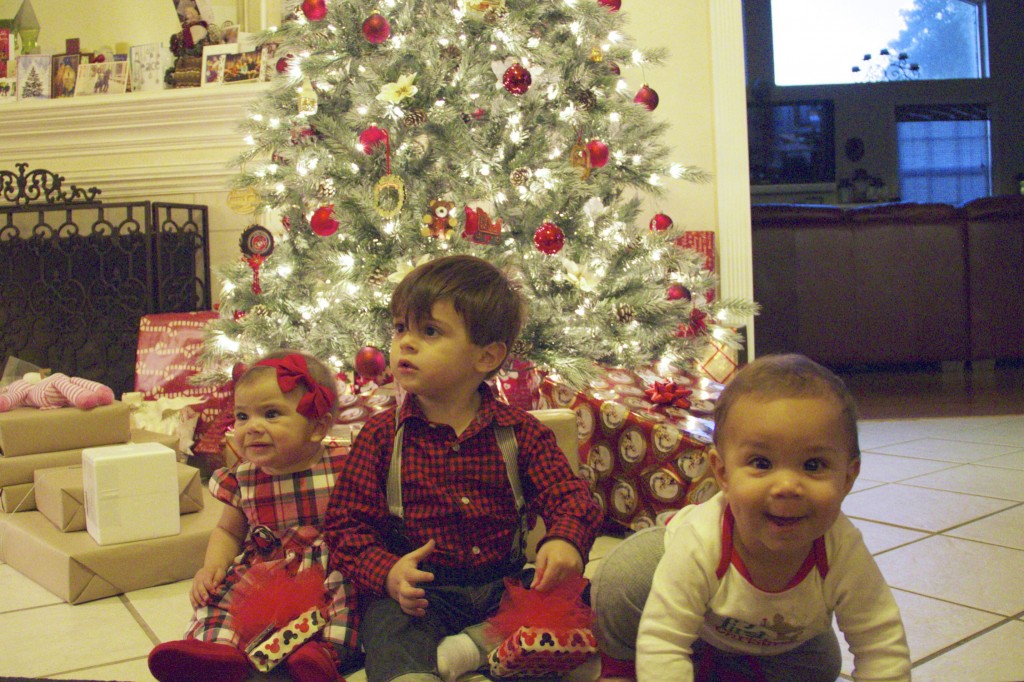 We all stayed at Nana and Papa's house. We woke up early and enjoyed Cream of Wheat and more hang out time. We had to leave around noon to meet some friends for lunch at Gourmet Pizza in Redlands — our favorite! We had fun laughing, and eating and then more eating and laughing. Can you tell we really like to eat?
We went back to Grandma and Grandpa's for the night and enjoyed relaxing the rest of the day.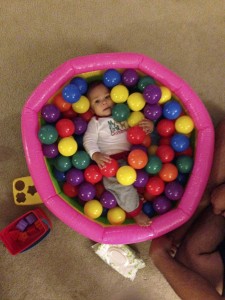 On Friday we went to the Cotsenmoyers for Christmas there. Another fun time was had by all with three kids in the mix. Tenley took to making pictures and bracelets for everyone, while the boys wrestled over binkies and ate things off the floor. We had Del Taco (of course) for lunch and then all the adults melted into the couch to relax during naptime for the kiddos.
Finally, we made the rounds again to see Grandma and Grandpa, Nana and Papa for goodbyes. Then made the trek home on Saturday evening.
We really enjoyed our relaxing and fun, first Christmas with our Teddy! I can't wait for many more years to come!