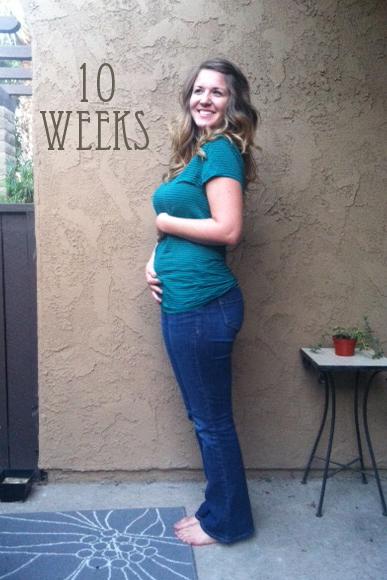 8 (ahem, I mean 10) weeks! I'm so glad we've made it this far little kumquat! Alex and I have begun praying for you specifically based on what size you are, so this week we're praying for our little kumquat.
I've had horrible morning sickness that has lasted all day for the past two weeks and I've been extremely exhausted. It now takes me about 45 minutes to get out of bed and shower — a task that usually takes me 10 minutes. I basically have to sit down every 10 minutes in the morning until I've had something to eat.
I've been a biiiiiiiit hormonal, in fact this week I yelled at Alex while we were enjoying dinner at Panera and everyone started staring. It was not my finest moment and Alex laughed so hard that he cried — so, I started laughing at how ridiculous my whole freak out was.
I don't have much of a bump yet (the above picture is more of a food baby than an actual one) and that is perfectly fine with me, but I am definitely feeling a little thicker around the middle. I'm going to ride this out as long as possible, but this little baby has had me eating constantly! This past week I ate entire pasta meal for a family of four… by myself. It may have taken me three hours, but I ate it and I'm not ashamed.
So, what were some of your remedies for "morning" sickness? How did you maintain a healthy diet during pregnancy and what workouts do you suggest? I've been pretty good about maintaining some cardio, but it's been hard these past two weeks.
Over and out,
Leelo and Ander +1