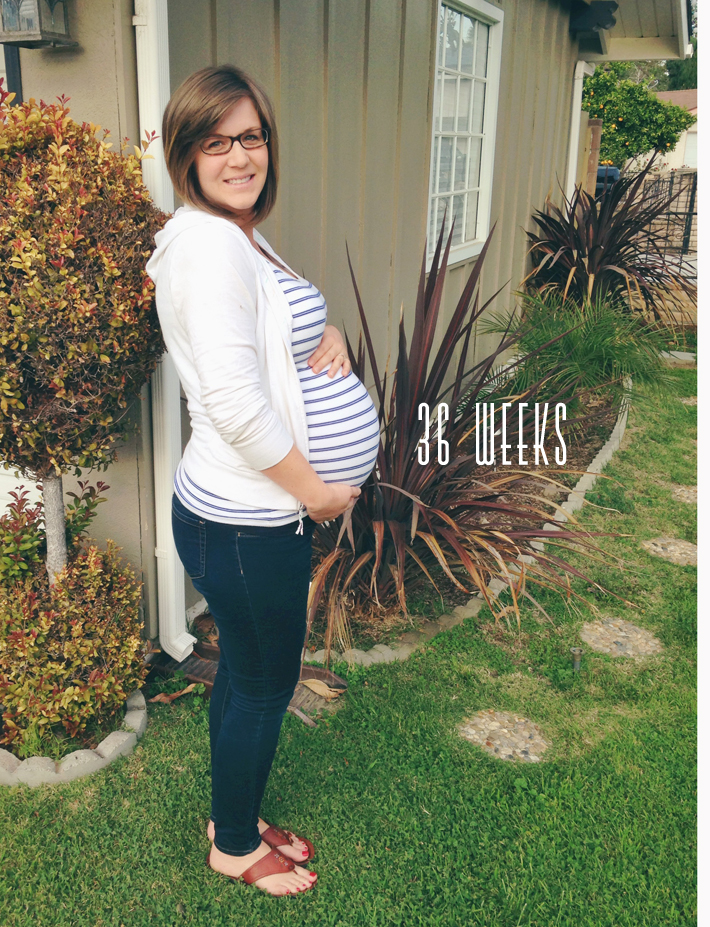 Baby,
We're in the month in which you're to be born! I can't believe its finally here. I'm so ready to hold you and see your squishy little face. You've had the hiccups quite a bit this month and your movements are getting so strong! You're still sideways and you like to keep your head to the right, which it where I usually feel your little hiccups. People can even feel them on the outside of my belly, which means you must have some strong lungs! I'm looking forward to that first, super strong cry as soon as you come out.
Braxton Hicks are strong with you, little one. I've had a few that felt like real contractions. You have also kicked me SO hard, twice now, that I've had to stop mid conversation and recover.
The doctor continues to remind me that I'm measuring about a week ahead and that you are a BIG baby. Surprise, surprise. I'm actually glad you're going to be big because that means you'll be a good eater and you'll sleep for LONG stretches… right?
Come soon little one! We can't wait to see you.
*          *          *
This final month is going by…. so… slowly. My goodness. Some days are REALLY good. I have a ton of energy and my nesting is in high gear. Some days require coffee and a whole lot of Jesus. Also, naps. I am so blessed that brother bear has adjusted to his new nap routine and bed time routine. It should make the process of rocking and nursing the baby constantly a little bit easier, or at least I can hope.
Alex and I have decided that Baby bear will be our last biological child. It's not a decision we came to without great prayer, but we ultimately are very happy with the children we've been blessed with biologically. We've always been open to the Lord growing our family in other ways and we know that our family isn't done growing, but I'm done growing them. Hah. Don't get me wrong, I love my babies and pregnancy is a beautiful thing, but my body is done with this stage of life. I'm ready to start raising my little ones into amazing men and women. I can't wait to see what the Lord has blessed us with this time!
As I'm writing this, I'm actually 37 weeks along (so is my picture) so we only have 2 weeks and 1 day left until my scheduled c-section. That means only 2 more weeks until we get to find out is Baby Lopez is a boy or a girl. I'm still 85% sure it's a boy — as if I could actually know that.
For most of my pregnancy people have said, "Oh! you're definitely having a girl." But, recently almost every single person has said, "Are you having a boy?" I don't know if I'm just all the sudden carrying differently or what, but it seems as though most people are jumping on the "boy" bandwagon lately.
This month has been an interesting time for us. On March 11th of 2014 I went to the hospital for my D&C, four days before that we had our second ultrasound to confirm that the baby's heartbeat was null. Two days before that was our 8 week ultrasound where we would find out that there was a 7 week and 1 day old baby, but no heartbeat. To say that this past week has been emotional would be an understatement. I think Alex actually felt it more than me. I think because he never truly got to process it as it was happening, where as I've had the whole year to feel every single bit of the grief and pain to finally reach the point of acceptance. Maybe that's what this feeling is. Acceptance.
The Lord has provided much distraction for me this past week, between family visiting and prenatal appointments, to retreats for Alex and maternity leave prep for me. I think He knew I needed the distraction, to focus on the joy that's about to happen. I know I'll have time to remember and grieve but I also think God wants me to notice and remember THIS pregnancy. I so appreciate that.
It's been a long and tiring year, but also one full of so many, MANY blessings. God is beyond good.