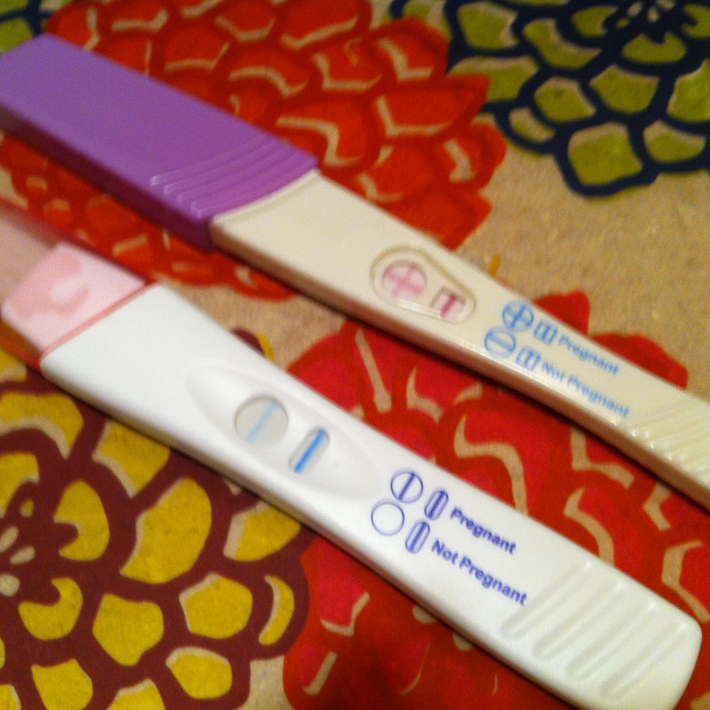 Me: "I'm going to take a bath, or we can go in the jacuzzi if you want to…"
Alex: "Okay…"
Me: "We don't have to."
Alex: "Yeah, that's okay. You can take a bath."
Nat walks to the bathroom, carrying a candle and her laptop to watch a Rom Com.
Nat: (Thinks to self) "Gosh, it's still early but maybe…"
Nat walks to the cupboard and takes out a test. An early one.
Nat: (Thinks to self) "This makes sense, right? I am 3 days early… but I'm showing some signs. Ugh, what the heck. We've ben trying for 10 months why not take one? At least I'll know and if it's negative, I can prepare myself. Okay… here it goes."
Approximately 4(ish) minutes later…
TWO LINES.
Nat: (Thinks to self) "TWO LINES! TWO LINES! That's pregnant, right? I've never seen two lines before. What do I do? I had this whole thing planned out on how I was going to tell him. Dinner and that teddy bear I… oh, CRAP. I left it at our old apartment. Well, Jonna is still there… but how do I explain that I need to go get it?"
Nat: "Hey! I forgot something at Jonna's that I need for subbing tomorrow. I'll just go run and get it. Do you want frozen yogurt? Okay, bye!"
(Thinks to self) "He doesn't suspect… right? No. It's fine."
Arrives at apartment. Lots of jumping up and down. Grabs bear. Drives back — slowly and carefully.
Nat: (Opens door — shaking) "Hey, don't be mad. I bought a shirt at Anthro for work and I left it at the apartment.
Alex: "It's okay. Hey! I found something awesome. Come look."
Nat: (Thinks to self) "Oh no! Did he find the test?! I threw it in the drawer really quick before I left. Maybe he found it?"
Alex: "It's that rug we want. But guess what? It's 75% off, just today…" (Then he says a lot of other stuff that I don't remember because I'm so nervous!)
Nat: "That's so cool, Bub. Hey… I'm sorry I forgot to get you frozen yogurt, but I think that what I did get you is better."
Alex: (Opens up anthro bag. Looks up) "Is this? Bubbie? Is this?"
Nat: (Shakes head "yes" and starts crying).
Alex begins to sob, holding the bear and soaking it with his tears of joy.
We're speechless. TWO LINES.
P.S. I took another test like 5 seconds later. A real one and it was positive. Not even my first pee of the day or anything (TMI, sorry).
TWO LINES.
This is happening. Thank you LORD!!
"I prayed for this child, and the LORD has granted me what I asked of him. So now I give him to the LORD. For his whole life he will be given over to the LORD." – 1 Samuel 1:27–28