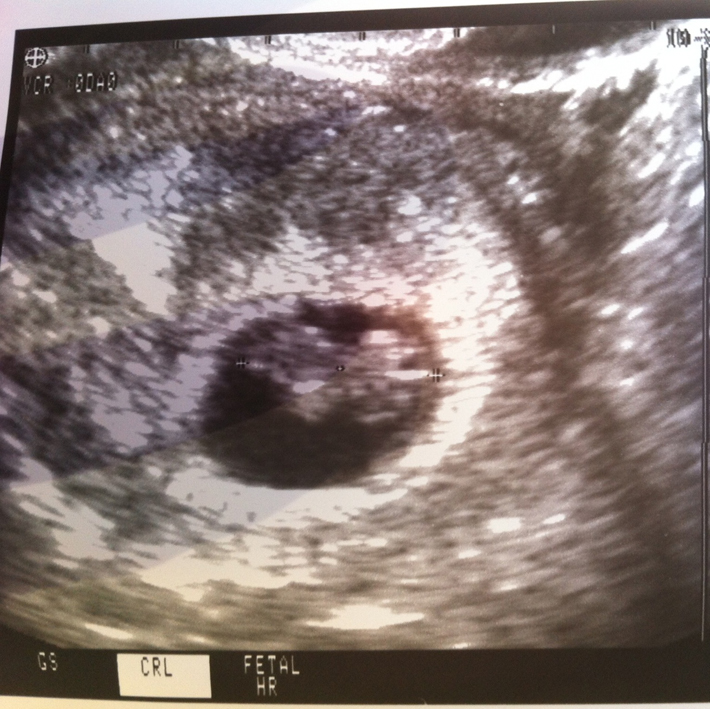 Technology is amazing, let me start off with that. You know why?! Because, I was able to actually see my baby yesterday (10/4/12). It's about the size of kidney bean but it has a heartbeat… a heartbeat, you guys! I'm telling you, it's the moment that changed everything for me. I've been so skeptical this whole time, worrying if this baby was viable, taking pregnancy tests every day for a week straight, praying and praying and praying for this appointment to come! And it came and it. was. magical.
Just look at that little kidney bean. This picture totally doesn't do it justice and seeing it move around in there was just ridiculous! It jumped and flinched and I almost lost it. It's a baby — an actual baby… and I love it so much.
On the not so bright side, this baby is kicking my butt. I can barely eat anything and nothing sounds good except bready-salty things. I haven't gained any weight yet, mostly because anything I eat ends up in the toilet. Morning sickness is in full effect and I'm pretty much married to my bed. I love sleep… almost as much as I love technology.
But not as much as you, you see… but I still love technology.
Always and Forever.
Leelo and Ander +1