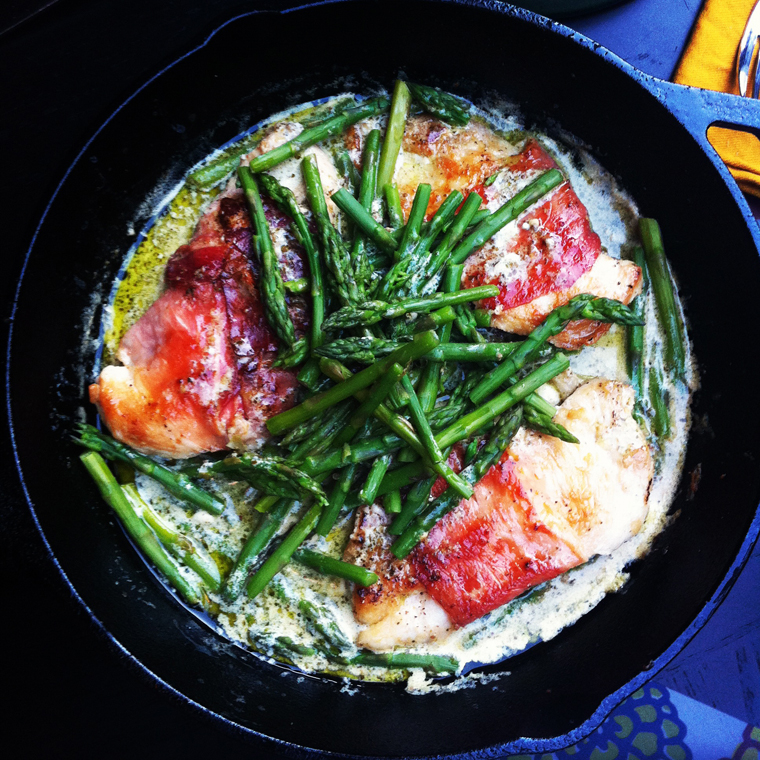 Adapted from http://www.kwestiasmaku.com/
Guys, I'm not lying — this dish is so freaking good. Seriously guys, enjoy making this fast, tasty and easily Gfree meal. Nom. Major Nom.
What You'll Need:
Thinly sliced chicken breast
Proscuitto
Asparagus
Half n' Half
Pesto
What You'll Have:
Flour (optional)
Olive Oil
What You'll Do:
In a cast iron skillet heat up a few tablespoons of olive oil.
Lightly coat the chicken in flour (optional).
Wrap each piece of chicken in 1-2 slices of proscuitto and place them in the skillet, 5-7 minutes on each side until browned.
While that is cooking, trim and snap the asparagus.
Steam for 7-10 minutes.
Set aside.
Pour in 1/8 – 1/4 cup of half n' half and mix in about 1-2 tablespoons of pesto.
Add a dash of flour to thicken (optional).
Stir in steamed asparagus.
Serve with either warm bread or pasta.
Enjoy!