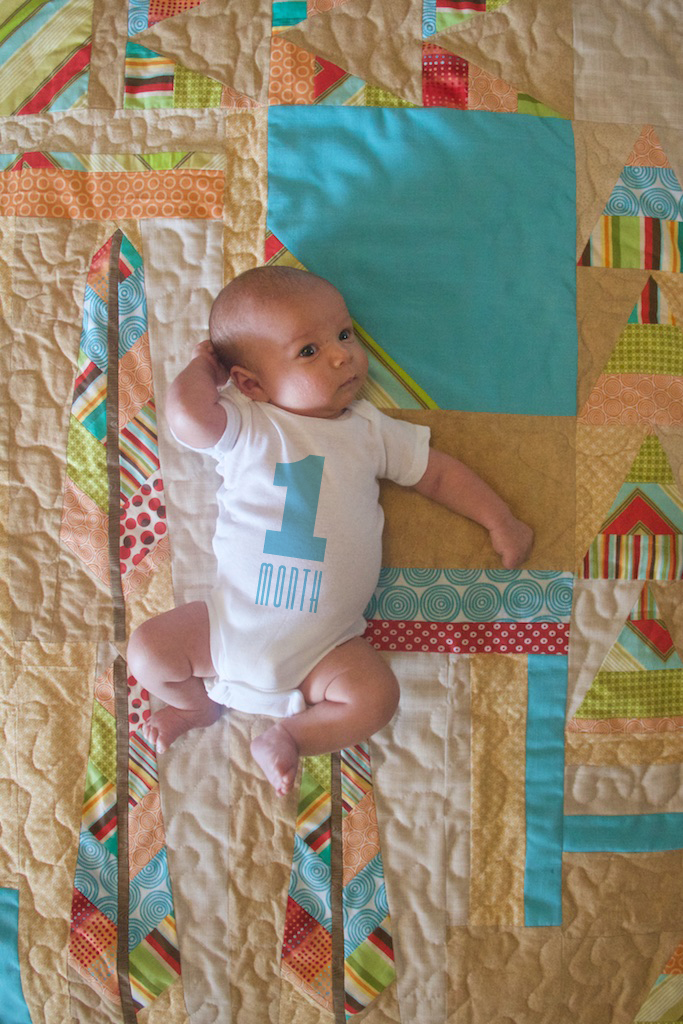 Sammy,
You're 1 month old! It's been a whirlwind of a month. It's true that the days go by slowly while the weeks pass quickly. Each day we're learning more and more about each other and you're growing in strides each day!
You've had so many visitors this past month and you even had your first trip to Riverside. We've been blessed to have help from family members every week day since you were born. Everyone wants to spend time with you and your brother and I sure have appreciated the help!
From the time we got home from the hospital you've been growing and changing. You've packed on the pounds and mama has been shedding them! We make a pretty good team that way, buddy. Go us!
You open your eyes and play about 4 hours a day currently. You sleep a lot. At the beginning of the month you were going about every 2-3 hours between feelings but now you've stretched that to 4-5 hours! It's been glorious to only have to wake up 2-3 times a night with you. You're so easy at night too; I just feed you, change your diaper, swaddle you up and lay you back down and you're out for the count. Let's keep that up shall we?
Some things you like are: Your Dada's voice, bassy music, your pacifier, your vibrating chair, your swing, the moby wrap and long walks. You love your mommy too and always want to be held by her. If I put you down and walk away you cry, but as soon as I walk back into the room you stop. It's pretty funny and sweet. You also really like your Uncle Chris' voice. You talk to him every time he holds you. You talk a lot to your Grandma and Auntie JuJu too!
Some things you DON'T like are: Your brother's scream, anytime he crashes something on the floor of the playroom, any loud noise for that matter, being left alone, the sun when you're sleeping, waking up in general, milk, tomato products, coffee, being wet or poopy.
This past month you've been visited by all our mommy and daddy's immediate family, friends from church, neighbors, and great grandparents. We also made a trip to riverside on my last weekend of maternity leave to visit Auntie Am's new twin girls Chandler and Tessa. You're going to have to choose between the two of them, and good luck because they are going to be awesome. We also got to meet Baby Vasquez — Ezra. Mama didn't get a picture of you two together because Ms. Christina and I spent the whole time catching up and talking. I promise we'll get one soon! You were a champ on the drive (3 hours total because of stopping to feed you, change you and grab dinner) and slept most of the time. I'm sensing a theme here… You like your sleep.
You also made two trips to one of our favorite places: Underwood Family Farms. It's a family run farm with chickens and goats and horses and cows, tractors, hay bails, and best of all — a farmers market with fresh produce. We especially love the strawberries. Yum. You were champ both times and love being in the wrap. You just sleep most of the time.
You're going to be my lazy sleeper aren't you? I'm going to have to work hard to wake you up in the morning, smack you in the back of the head when you fall asleep in church, and slam on the table when you fall asleep at breakfast. Heh.
I cannot wait to see your personality develop more over this coming year! What fun we are going to have. We love you so much Sleepy Sam!