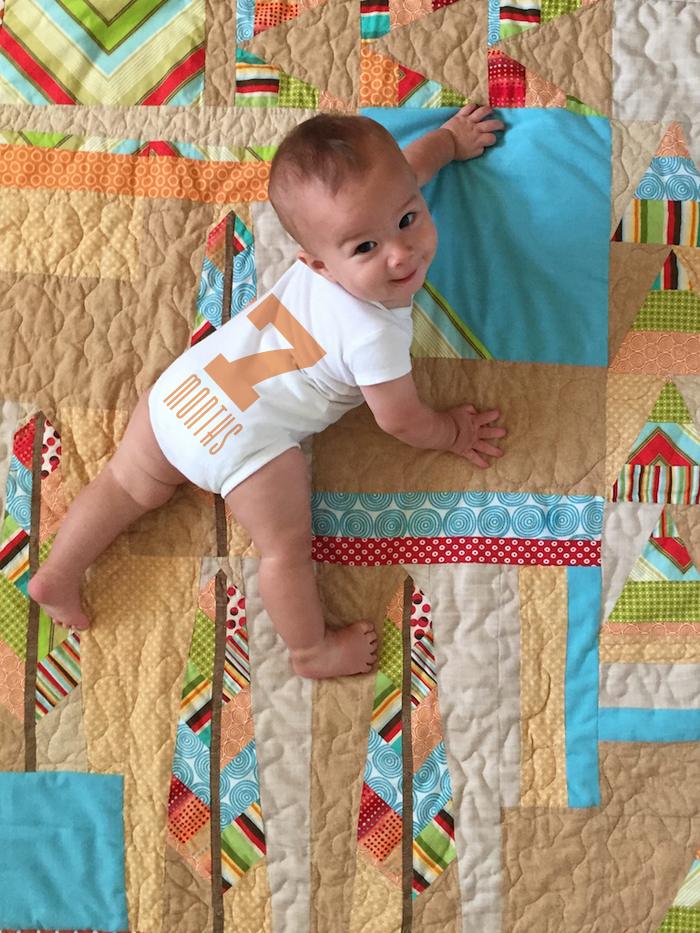 Sammy Baby,
Yes, that's what we call you. Yes, we sing it in the vocal stylings of Fankie Valli and the Four Seasons. Yes, you love it.
You're over half a year old now AND we're about enter into my FAVORITE time of year! The Holidays. First up, your first halloween. I can't wait to get you all dressed up and take you and your brother around the neighborhood. We LOVE our neighbors. They are literally the kind of people from whom you can ask for sugar!
The month was so fun in most ways and challenging in others. Your first adventure was seeing the Blue Angels in the airshow at Pt. Magu. Your cousins, Nana and Papa went too and you all loved it. We loved it so much, we went both Saturday and Sunday to see them. You continue to be the easiest, sweetest baby. You wore your ear muffs to protect your ears so well. You even fell asleep while wearing them.
You started scooting around/army crawling and you're are mighty fast at it. You can basically follow your brother around now, which you both are loving. You sit up on your own very well and have started to munch on a few different things. Since you have your bottom two teeth now, it's unbelievably cute to hear the "crunch, crunch, crunch" of you chewing your teething biscuits.
Great Grandma, Grandpa and cousin Elyse came to visit this month. We took them to our favorite spot! Underwood Family Farms. I can't wait until you're walking and I can take you boys there to run around. You guys always seem to have a blast there.
Your Dad and I got to get away for the night with friends to the Bluegrass Festival in LA. You Auntie JuJu and Uncle Thomas came to watch you both and you were an angel for them. No surprise there.
Some of your favorite things are:
– Blowing raspberries on my arm
– Playing with my arm fat
– Apples and spinach
– Pancakes. Duh!
– Your brother and your Daddy
– "Uptown Funk" by Bruno Mars
– Peek-a-boo
Some of your least favorite things are:
– Carrots and Eggs (Not together. That's gross).
– Being left alone
– Afternoon naps
– Getting your diaper changed
Honestly, for the most part you are pretty amicable. You don't have strong dislikes, except for the above listed.
I mentioned that this month was also hard. You were extremely sick this month and teething, I think. You had to miss your cousin JuJu's birthday party and we were so sad! The sweet part of it though, was that I was able to get a whole 24 hours with just you while Daddy and Teddy went on the pirate ship in Big Bear. We watched Gilmore Girls and wrestled on the floor, while practicing your crawling.
Our biggest adventure of month was camping! We go, every year, with our church to a campsite in Carpenteria. The first time we did it, your brother Teddy was just 4 months old. You, of course, were a champ. The day before the trip I sliced my thumb on a mason jar and needed 5 stitches. Do you know how hard it is to change diapers with a bum thumb? Especially since "getting your diaper changed" is on the dislikes list.
Sickness and all, you continue to be my snuggly, sunshine bear. You LOVE me. No, I mean it. I'm totally your favorite. I'm soaking up every single second.
Love you Bubs,
Mom