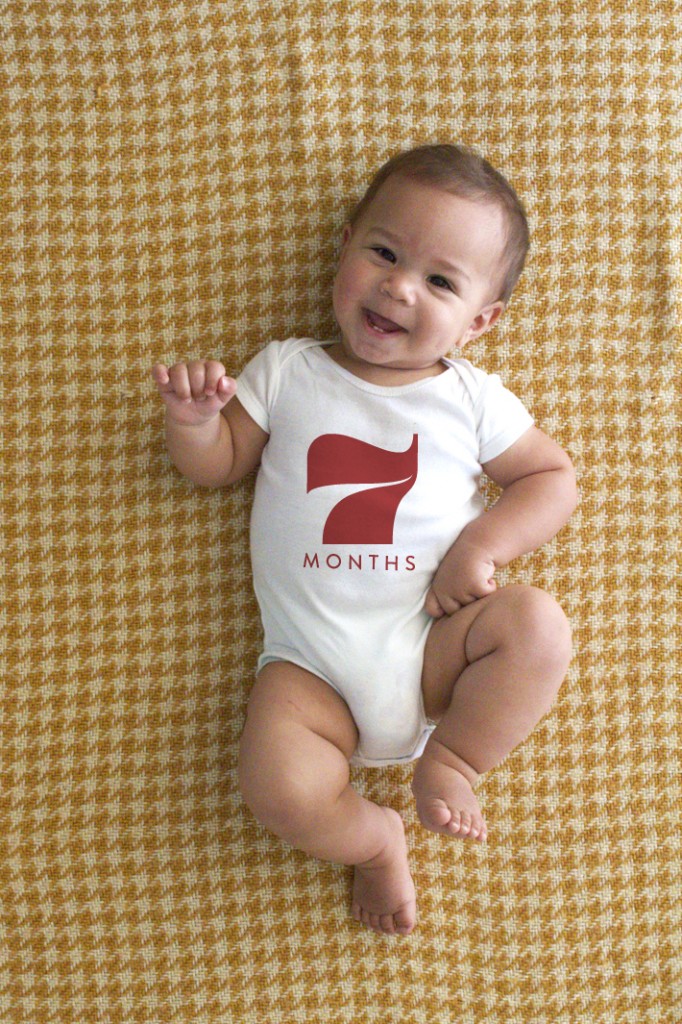 Teddy, you're 7 months old today! This coming month you'll get to experience two of my favorite holidays, Christmas and New Years. Last year I enjoyed them so much because you were in my belly and I was so anxious for this year to come and I could hold you. This year I'm so excited to have you here with us! I'm anxious to see how you respond to opening presents on Christmas day, I hope you like what you'll be getting.
This month, you finally decided that you really like food. You were always willing to try foods but you weren't much of an eater, now you're "mmmmm"ing, smacking your lips and drooling whenever food is in sight. We are always having to move everything away from you at the table because you are so eager to get at it.
You've mastered crawling, pulling yourself up onto things, transferring, sort of waving, and saying "dada." I can't wait to see what next month hold for you!
*        *         *
Wow! This month Teddy is more mobile than ever. He always is on the go. Grandma said, "Now I know why you're always tired. This kid is crazy!" Teddy is hardly ever content to just be in your arms anymore. He always wants to be crawling around and getting into things. It keeps me on my toes, that's for sure!
I mentioned that Teddy has mastered crawling, but what's funny is that he's such a hefty little guy that he's not exactly fluid in his execution. He's very rigid when he puts one leg, one arm, one leg, on arm to move forward. We joking call him Teddy "The Tank" because he's so slow moving. That doesn't stop him from demolishing anything in his path.
This month Boone actually started to be nice to Teddy. Not nice enough for me to capture any of the cuteness, but he's actually kind of taken to him. It's very sweet.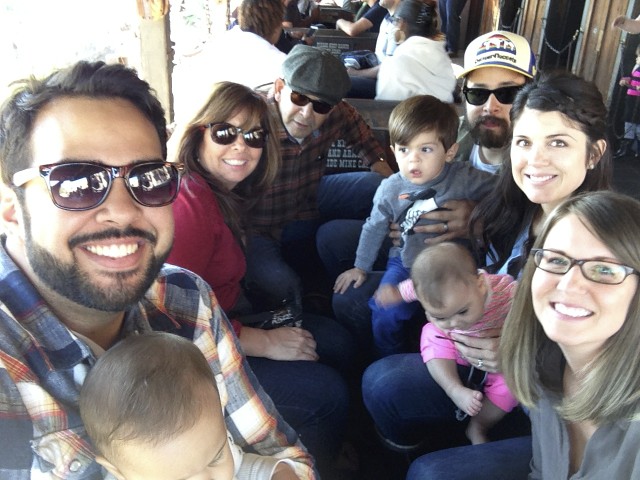 Teddy had many fun adventures this month, including going to Knott's Berry farm! Nana and Papa are allowed discount tickets during the month of November since Papa is a Marine so the entire Lopez clan went down to Knotts and tore it up! I had forgotten how fun Knotts can be with all the western scenes and rides. That could have also been because cousin Ju-Ju LOVES "choo-choos", "yee-haws", and "bang-bangs". It is so fun to experience things with kids.
Teddy loved all the rides he went on, including the balloons. He had to sit on his own across from Alex and he did great! It was so cute. I can't wait to take him again next year when he's a little older and can try out some of the bigger kid rides, but I don't think I'll ever be prepared for when he wants to go on crazy rollercoasters. I'll just need to pray my way through that.
Teddy really loves music and not just in a dance to it kind of way. He really appreciates it. He looks in wonder whenever he sees someone playing the piano, cello, or guitar. He LOVES beats to music and gets very excited when people sing. It's so sweet. This past month I showed him Yo-Yo-Ma playing his cello on Mister Rodgers and he was entranced. If he doesn't end up doing something with music I'll be surprised.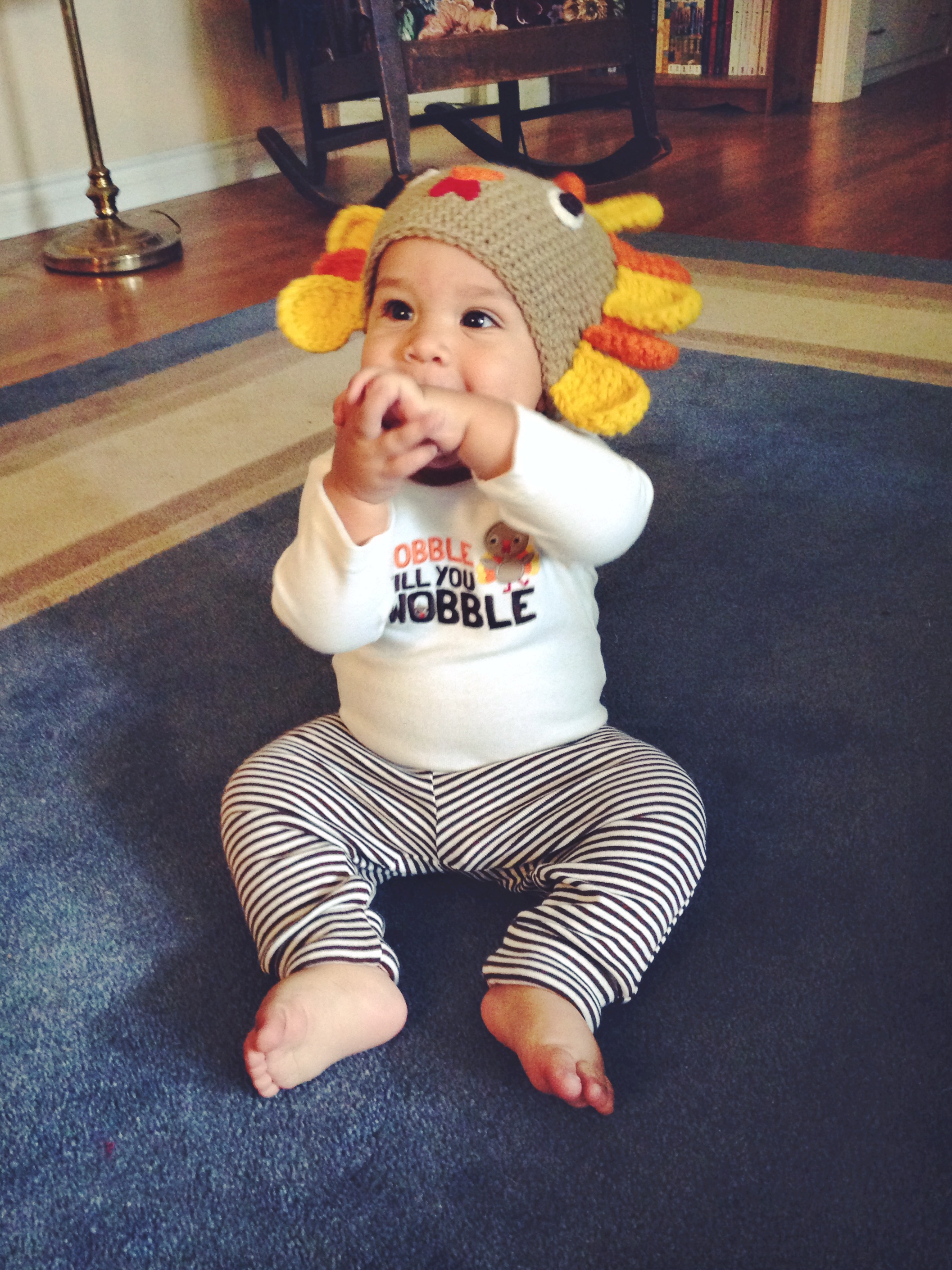 Teddy also had his first Thanksgiving this month! I wasn't always a huge fan of Thanksgiving growing up because I don't like turkey or ham. But as I've gotten older I've really come to love it. A friend of mine put into words exactly what it is, "I love this holiday more than any other for approximately two reasons. Number one being that you basically do nothing all day besides sit, talk and eat. There are no presents to be purchased, no nothing you need to do besides be. The second reason is, of course, the community." I LOVE this. It's exactly why this holiday is so great. We spent the first half of the day with the Thomazins and the second half of the day with the Lopezes. Then we decided to make a weekend of it and see the Cotsenmoyers for Auntie Am's birthday. Teddy, Ten and Cam love hanging out, when they aren't fighting over toys, stealing binkies, and scratching each other.
We also were able to finishing unpacking and decorate our house for Christmas! Hooray. I LOVE Christmas and the decorations that come with it. I wish we could leave them up all year; mostly the christmas lights. The glow the give is so cozy and warm.
So, here's the Holiday season, to you and yours! Merry Christmas and a Happy New Year!