EATS AND THE BEACH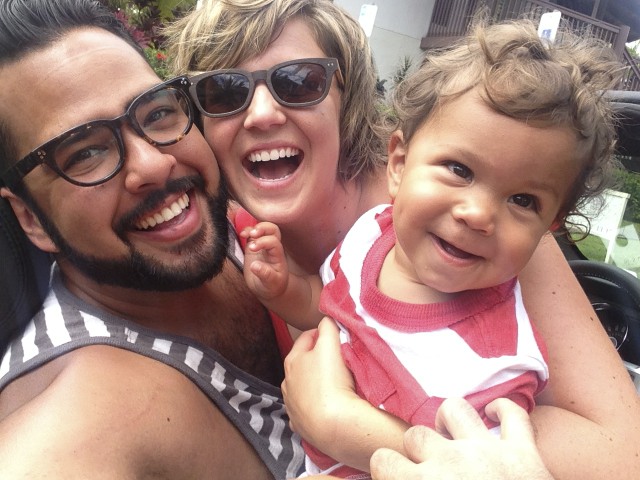 We landed! My parents had already been on the island for the week so they met us at the airport and while Alex got the car, my mom and I hung out with Teddy. My parents had told us we could do any excursion we wanted to and they would pay for it, but then they surprised us by getting us a convertible for the week instead! The perfect excursion that keeps on giving. Needles to say, Alex was stoked. When we were planning our trip we had to decide if we were going to bring Teddy's carseat or not — originally I had decided not to and we found out that Enterprise actually provides carseats as a courtesy.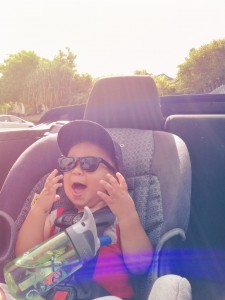 While we were there, it was great, except that I had to put Teddy front facing because the back of my seat was touching his if we rear-faced him. He LOVED it. I made sure to read up on the laws in Hawaii and read the manual on the specific carseat they provided. He met all the requirements. After arriving home though, I read an insightful blogpost by Alicia regarding carseat safety and we ultimately decided to keep Teddy rear-facing until he's reached the height and weight limitations of his current seat.
Vacationing with grandparents is AWESOME. The first two days we were there, Teddy slept in my parent's room so Alex and I could feel free to sleep in. It was so nice to catch up on some sleep, even with the three hour time difference. My parents took Teddy for a whole day so Alex and I could kayak and hike without the little one. Another night they took him for the evening so Alex and I could have a nice dinner! What a treat.
We did our best to help Teddy transition by keeping him up in the morning until his "normal nap time" (10 am) and he adjusted fairly quickly. Teddy is such an easy baby. While we were out, if he was tired he would just fall asleep in the car. However, it only takes about an hour to drive around the entire island so his naps were pretty short. For the most part, he wanted no part of any naps because there was just too much exciting stuff to see!
We went to several beaches on our trip and we also ate at a few great places too!
BEACHES:
Kee Beach has a fresh water lagoon that goes right into the ocean. There is a rope swing and fish in the lagoon. The surf was great for body boarding, but the tide was a little rough for Teddy so we stayed mostly in the lagoon and playing in the sand.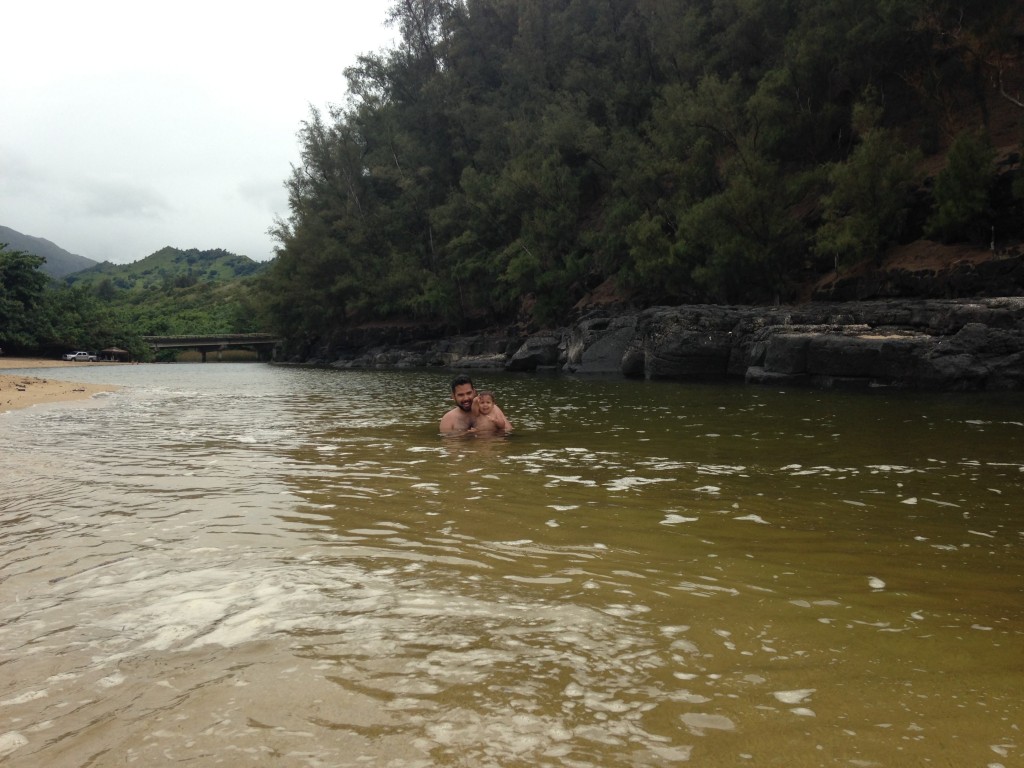 Poipu Beach Park has lifeguards, showers, bathrooms, large shady palm trees, covered picnic areas and generally mild surf. It was perfect for Teddy. He spent the day picking up coconuts of the ground and digging in the sand. It was especially nice to be able to hose him off and change him before getting back in the car.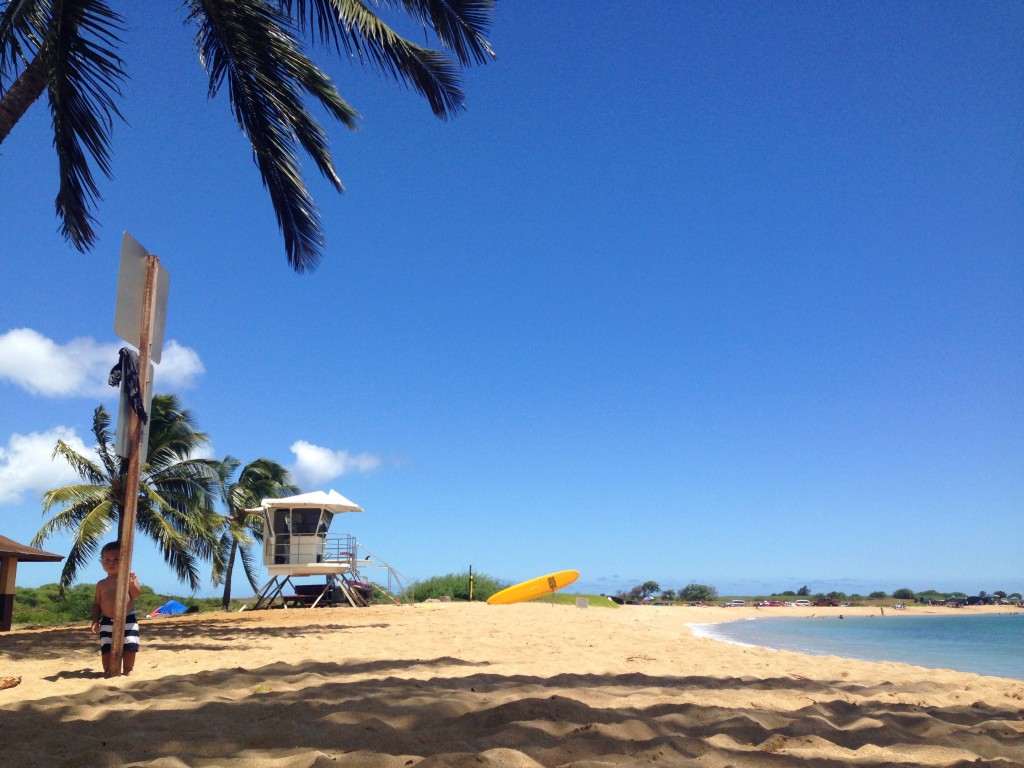 St. Regis Resort Beach is a private beach, but they have free valet and the dining is great. As long as you act like you own the place and are honest with the clerks they are usually pretty cool with people who aren't staying at the hotel. You can partake of the bar, spa, and rentals if you would like. This is our favorite beach. The beach very gradually goes down into the ocean, with little to no surf, which was perfection for Teddy to feel confident in walking around. There are small patched of reef too where you can snorkel or even walk along to see TONS of fish. The beach has large shady trees and hammocks. It's very easy to spend the majority of the day here.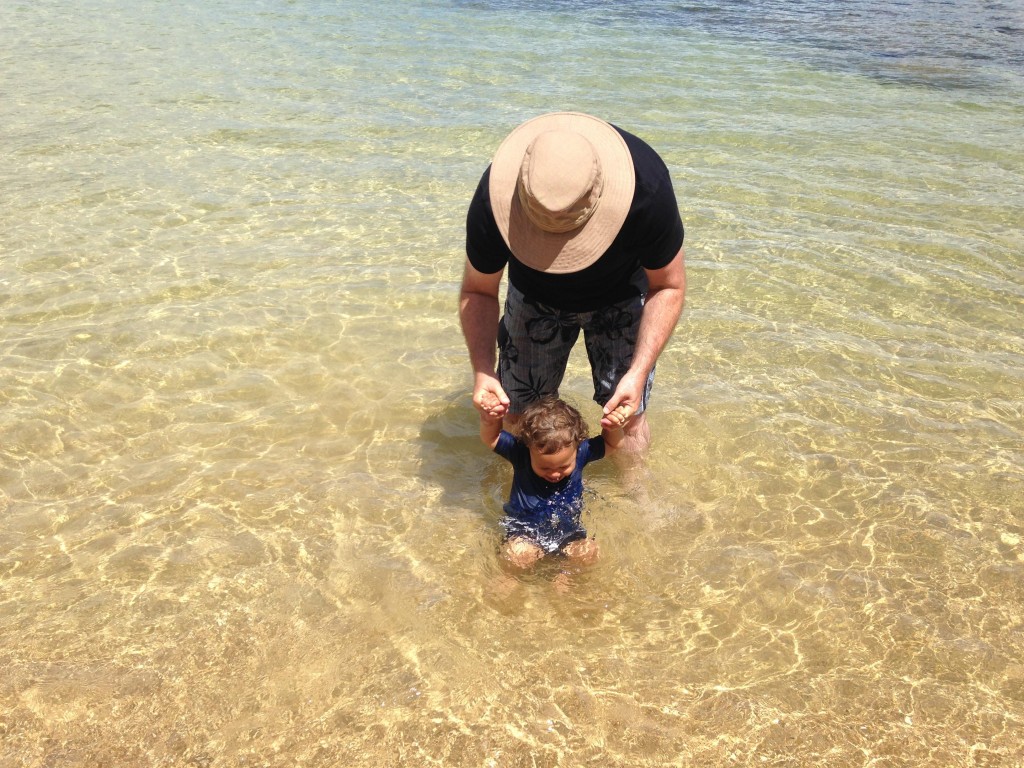 EATING:
Makana Terrace is perfect for a night out. Alex and I enjoy an amazingly slow and beautiful sunset dinner here on our date. Everything is grown locally and nothing is prepared until you order so we just enjoyed the fresh bread with herbed butter while sipping our wine, watching the sunset over Hanalei Bay. The sushi was fantastic! I would have come just for that.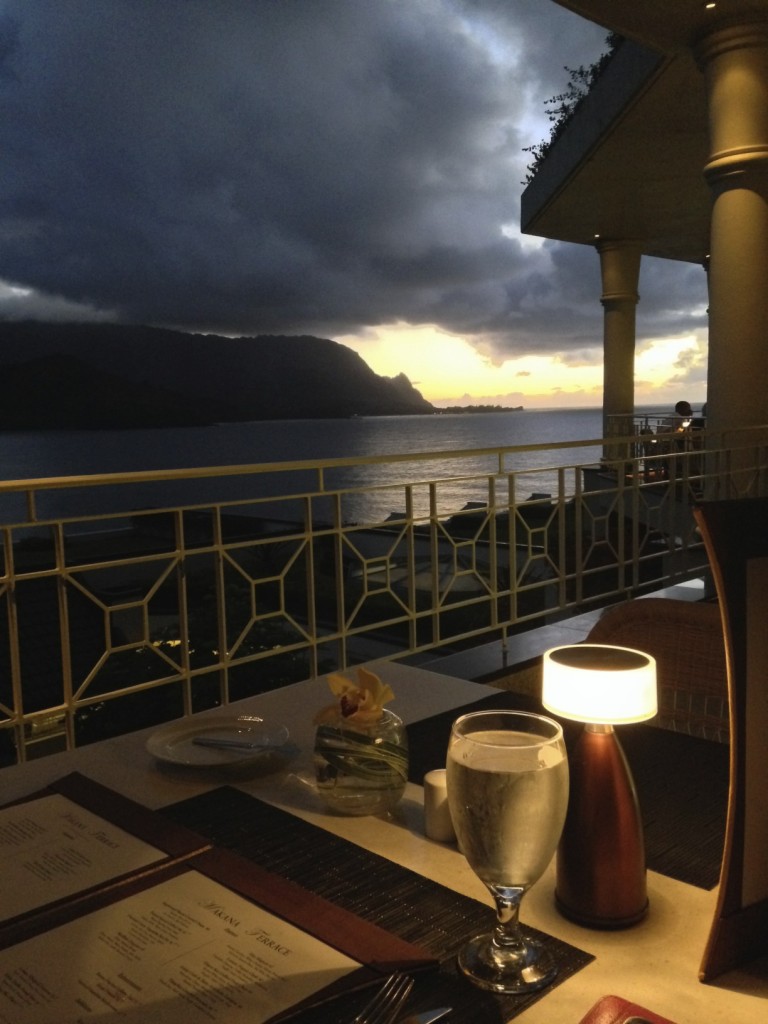 You can also return for brunch the next day! It's $38 per person, but absolutely fabulous. Teddy just picked off of everyone's plate and drinks were included. They have a fresh omelet station, fresh local veggies, eggs benedict, parfaits, waffles, pancakes, and gluten free options as well. 
Puka Dog is a MUST on the island. We went to the Hanalei location (this town is one of my favorites). I got a polish dog stuffed in a pretzel bun with garlic sauce and a fruit topping. Sounds bizzare, right? It's NOT. It will blow your mind.
Al Pastor Tacos is so good. Especially after a long day of kayaking and hiking. We were totally craving some good Mexican food and this place did not disappoint.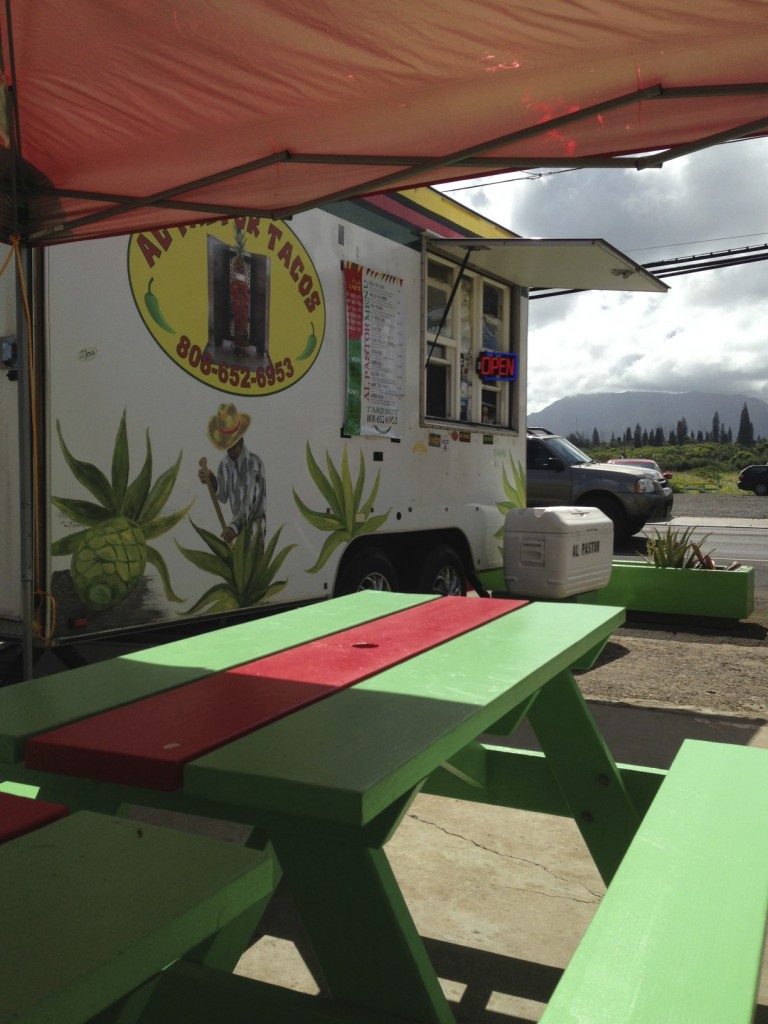 Hanalei Coffee Roasters is one of our favorite breakfast spots. The coffee is great and we usually hang out on their porch to escape the occasional rain or walk around shopping.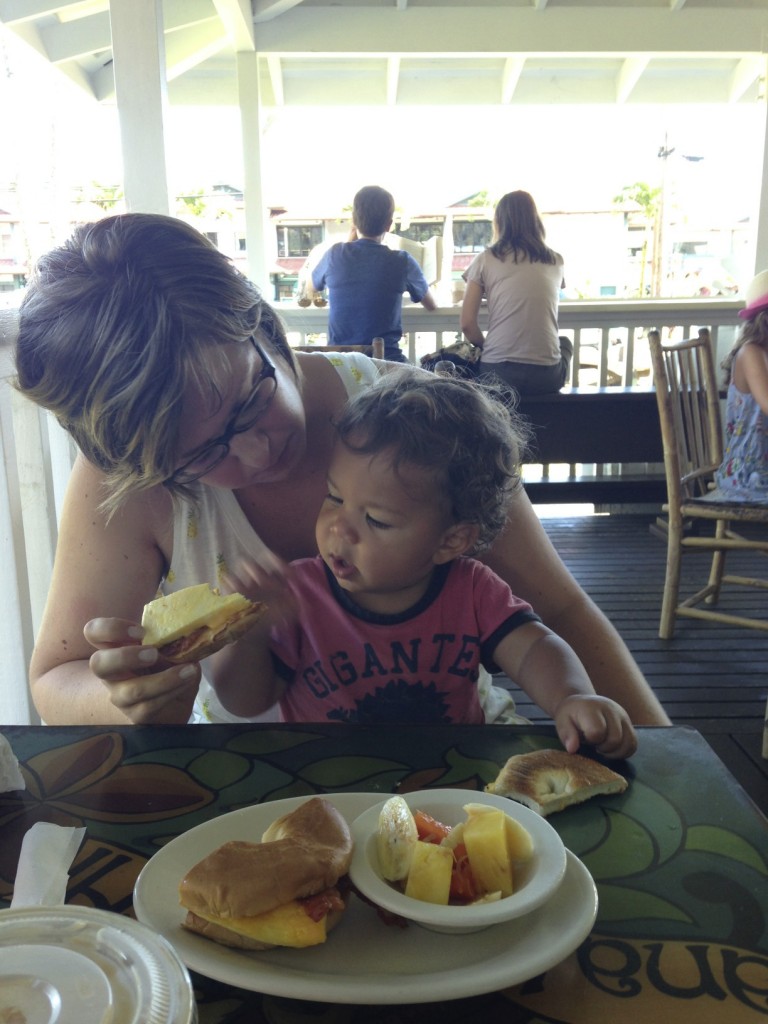 Lappert's is some of the best ice cream ever. There is one in walking distance from our resort and that's usually how we justify getting it — because we walked there.
Dukes is usually our last stop before boarding the plane back to the main land. The views during dinner are unbelievable and the food is so good. They also have a really great salad bar that comes with your meal.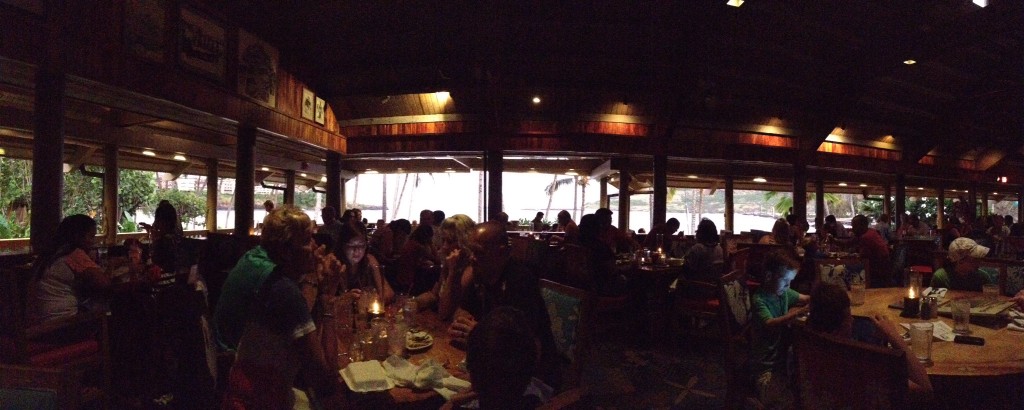 Let's just be real, you go on vacation to lay on the beach and eat so this was pretty much the best vacation ever.