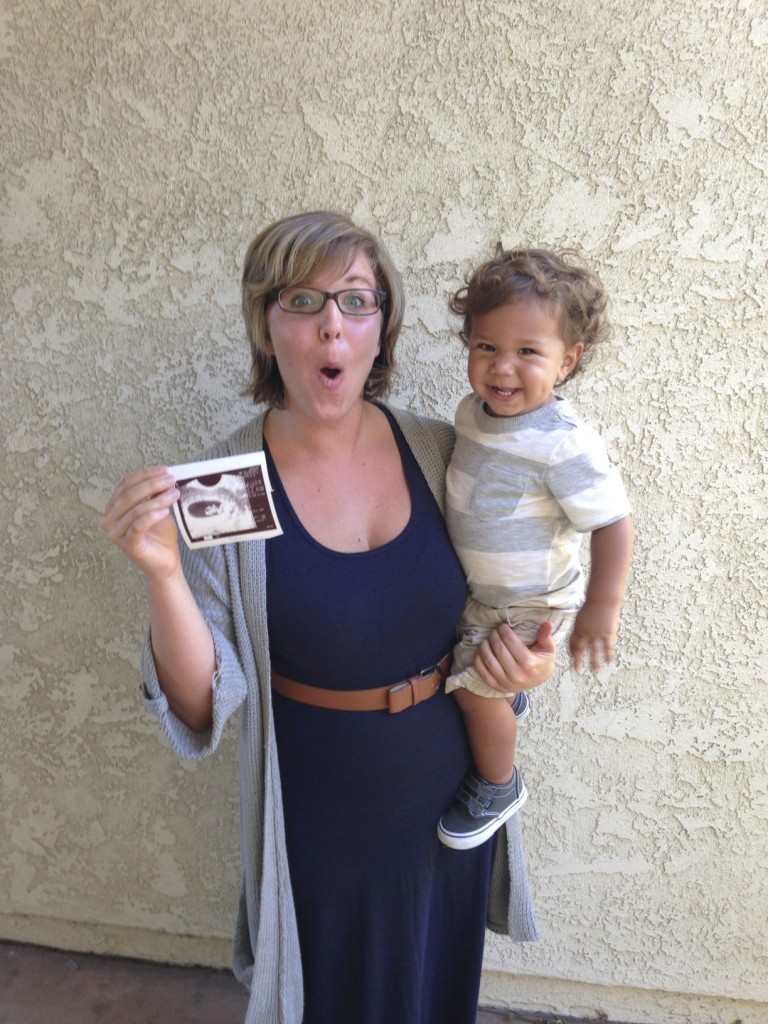 Dearest little one, how we've prayed and prayed that God would give us another child. We were so sad to have lost our second and you are such an answer to prayer. We got to see your heartbeat for the first time when you were just 7 weeks and 5 days along. We lost your sibling at 7 weeks and 1 day so imagine my joy when the first time I got to see you, you had already passed that time! Seeing you was much too short for me because I could have stared at that little flicker forever. What an amazing gift life is.
Your brother has absolutely no idea that you're coming. Not a clue. I have a feeling that his world will be completely turned upside down once you get here. Oh wow! We have so much to do to prepare for you!
Keep growing, healthy and strong. You can make me throw up all you want, make me tired, just make sure Mommy knows you're there. I love you.
*       *       *
I still can't believe we are going to have another baby. It's such an amazing blessing. If I'm being honest, I am a nervous wreck. Having lost a baby previously every, single, little thing makes we wonder if I'll lose this one too. I was sick to my stomach the day of our appointment. I even scheduled it for 3:30 in the afternoon — what was I thinking?! I almost threw up 4 times that day just from anxiety. When I arrived at my appointment the nurse kept asking me if I felt pregnant, but all I could think is, "I don't know lady! Just do the ultrasound and tell me if I am or not!"
I know that everything is in God's hands and even if He decides to take this baby from me that He is still good and His will is perfect. Even in the short time that we've had to grieve the loss of our little one, a few other close friends have either lost babies or had troubles conceiving — and I can't tell you how healing and hard it's been to walk through it with them. I can see God at work in each of their stories and I am praying so hard for their babies (to come and soon to be).
This pregnancy feels different than with Teddy. I'm not barfing, but I'm nauseous ALL DAY and I am oh, so, so tired. Teddy keeps me on my feet and on my toes with his crazy antics. He's climbing and singing and dancing and terrorizing the dog, and saying "no, no, no." quite a bit these days. I think he can sense some changes are brewing and he isn't quite sure how to deal with it. Except that he needs me ALL THE TIME. Alex can't even push the cart halfway down the isle before he saying, "Mama? Mama?" Forget about the simple days of dropping him off in the toddler room at church or the day care at the gym. He goes into complete meltdown mode. I'm actually really struggling with how to help him cope with his separation anxiety. It's a first for me because he's usually so social, independent, and easy.
We got to tell our families this past weekend (August 23rd-24th) that we are expecting! It was such a blast telling everyone about you and how we already got to see a little glimpse of the little one. Everyone was so over the moon excited.
Around this time of the year (usually not until October), but exchange names with the adults for Christmas presents. It saves us all a bunch of money and we are able to enjoy spoiling the kiddos and just being together as a family; which is my favorite part of Christmas anyway (oh, and also all the food). So, when we were with the Lopezes Nana and Papa had prepared dinner — oh wait, back up. Nana and Papa already knew! They found out the weekend before when they came out to give Alex and I a night off. They took Teddy and brought JuJu with them to stay in a hotel for the night! The next day we showed them a house we were interested in and at lunch I kept forgetting and dropping things and Alex said, "Why are you so forgetful and dropping everything?" And I said, "It's probably because I'm pregnant!"
Nana said, "Wait, what?! Did you plan that?" (Meaning us telling them, not the pregnancy).
Haha. We really wanted to tell them and when Alex said that, I couldn't resist.
So, back to the story. Nana and Papa already knew and set the stage for us to tell C&A and the kiddos. We exchanged names and then talked about the holidays coming up and trips we're planning. I has planned on getting through Christmas and then "casually asking" about April Fool's Day 2015. But, as things do with kids, they got out of control fast. Teddy refused to eat his dinner, JuJu wanted to play outside and Emmy had a poopy diaper. As we were planning and trying to get everyone back to the table I could tell everyone was getting restless so I finally said, "So, what's everyone planning on doing April Fool's Day 2015, because we were thinking about having a baby that day."
::stunned looks and questioning glances::
"Are you guys pregnant?"
"YES!"
Hugs and such ensued.
The next day we went to Grandma and Grandpa's church and somehow to it was understood that we were going to Grammy's house after church for a family lunch. However, no one told Grammy. Hah! Did I make it up? We'll never know. But, in true Thomazin fashion, we threw something together and went over anyway.
I suggested that since we were all together that we do the name exchange for Christmas. So, I wrote everyones names on the pieces of paper, but on the one I was going to hand to my mom I wrote "Baby Lopez Coming April 2015!". I stated the rules that you couldn't open up your paper until everyone had received their paper and then if you got yourself or your spouse you needed to switch. My mom opened hers and screamed! "Are you serious?!"
"What does it say?" "What?"
"It says, 'Baby Lopez Coming April 2015!'"
Then, more hugging, questions, pictures, and joy was shared.
We can't wait to meet this little baby!