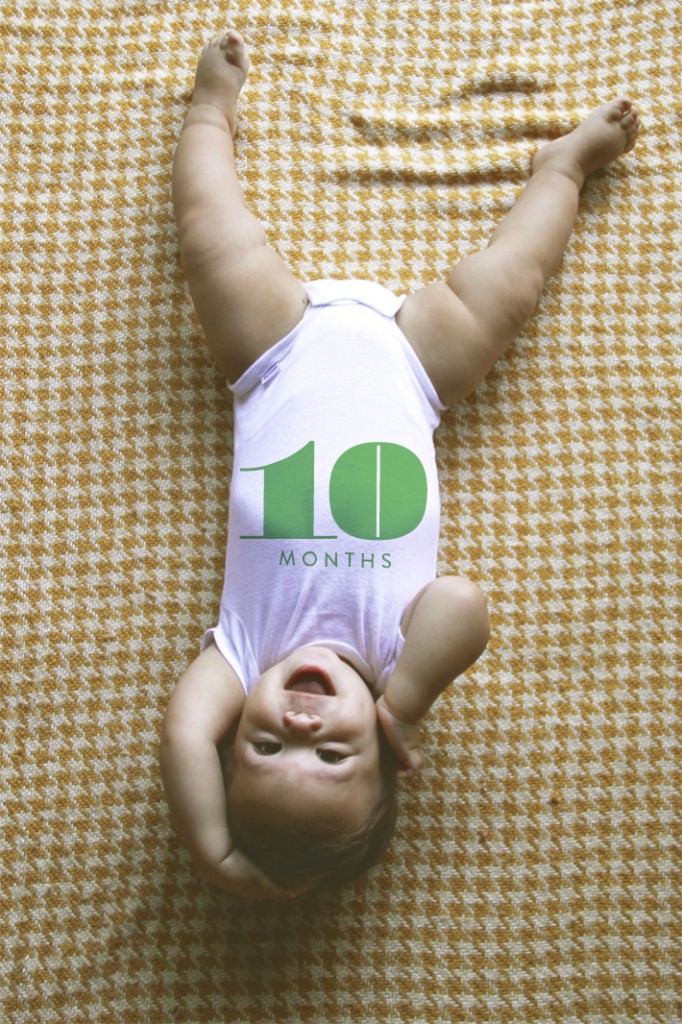 Teddy, I'm not going to lie, this month has been hard — to say the least. You've been sick, teething, trying to learn new things this month and it's been a whirlwind. You've mastered copying intonation in our voices, saying, "mama", "dada", "bah", "dah", "nana" "ah-duh" and "eeeeeeeeeee". You love to copy hand gestures and you wave at everyone. You can even sing! You constantly bring joy into our lives, even during tough times.
You have two new teeth coming in but only one has popped through giving you 5 teeth total! You just started learning to nod — though it looks more like you're bowing, AND THEN on the last day of your 9th month on this earth you learned to walk! You've taken 5 steps already and you're very apprehensive but you did it. I knew you could!
We are constantly amazed by the gift that you are to us. We love you.
*         *          *
Where do I even begin? This month started out with us finding out some amazing news. While I was in the ER getting IV fluids from the awful flu I had, they doctor ran a pregnancy test and told me I was pregnant! I was floored. We had just started trying and I had taken a test the previous month but it was negative. I didn't know how far along I was and they told me to make an appointment for that week with my OB. I drove home with new energy so excited to tell Alex. They gave me a piece of paper that said, "It has been determined that you are pregnant", so I circled it a bunch and put some exclamation points after it. When I got home Alex was rocking Teddy so I got ready for bed and put the paper on his pillow.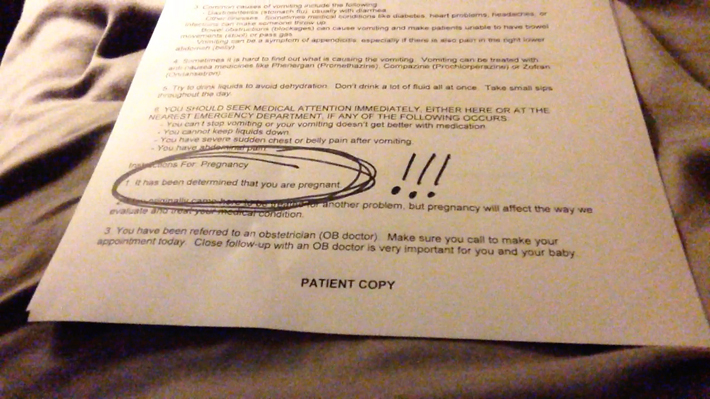 When he walked in he thought it was a bill for the hospital and was frustrated, but then it hit him… "Are you serious?", he said. I just shook my head and laughed. He face planted onto the bed. We both were shocked and excited.
The rest of the week is kind of a blur, I wasn't able to get an appointment until the following week on a Tuesday, so we went through the week with this huge secret and getting excited. We told Teddy he was going to be a big brother — which of course he understood completely. Tuesday rolled around and we were so excited. I had mentioned to Alex that "this was the ultrasound where we [would] get the first picture of our baby!" We arrived and there was no one in the OB office, which I thought was strange. We were put into a room and we waited. The nurse and doctor came in and Alex excitedly talked with the nurse about how Teddy was going to be a great big brother. The doctor placed the ultrasound and looked and looked and looked… and looked. I saw the baby. I saw the sac. But what I didn't see was a heartbeat. I knew. He didn't even have to tell me. I remembered so vividly seeing the flicker of Teddy's heartbeat and it was very clear to me that there wasn't one here.
The doctor was quiet. The nurse was quiet. Then, finally he said, "Here's the sac and here's the baby, but as you can see… there is no heartbeat." All I could say was, "Yes. I can see that." I just started answering in the affirmative to every question. I don't even remember what he said. Then, he printed out the picture. The first and last picture I would ever have of our baby. And I lost it. I was supposed to put that picture up on our fridge next to the one we have of Teddy. I couldn't handle what was happening and it came out in shaking and tears.
Slowly, we began the process of telling family and friends that we had miscarried — which was difficult because we hadn't even told everyone we were pregnant yet. I heard some amazing encouragement and had tearful phone calls for days with amazing people who loved on us. People brought us meals, visited us, took care of Teddy so I could rest and mourn. People were amazing. Loving. Alex and I researched our options, I spoke with people who had experienced all the options and ultimately we decided on a D&C. It was hard. They call it a "missed abortion". It hurt to have a word with such a negative connotation ascribed to this situation where I wanted this baby.
Family surrounded us in the days before, loving on us and taking me shopping (Thanks Debbie). Then, my mother and grandmother came the day before my surgery and helped me. They stayed the day after so I could sleep. I remember being at peace about my decision. I don't remember feeling empty like I thought I would. I just remember being so very tired. Teddy was amazing. He was so loving, cuddly, and so well behaved with whoever was watching him (Thanks Christy). So many people took care of us, bringing us meals (Thanks Jonna, Sarah and Billy, Sal and Barrett), wine and Oreos (Thanks Am), and talking to us (Thanks Andie, Bree, Ash, Amber, Kim, Meg, Cris, Sarah, Crisa), praying for us (Thanks, EVERYONE!). We felt so much love.
We didn't really come out of the fog for a few days and I had finally had it. I just wanted to get out of the house. Amber agreed to meet me in Pasadena at the Kidspace Museum with the cousins. WE HAD A BLAST! The kids did too. It was so nice to just do something fun.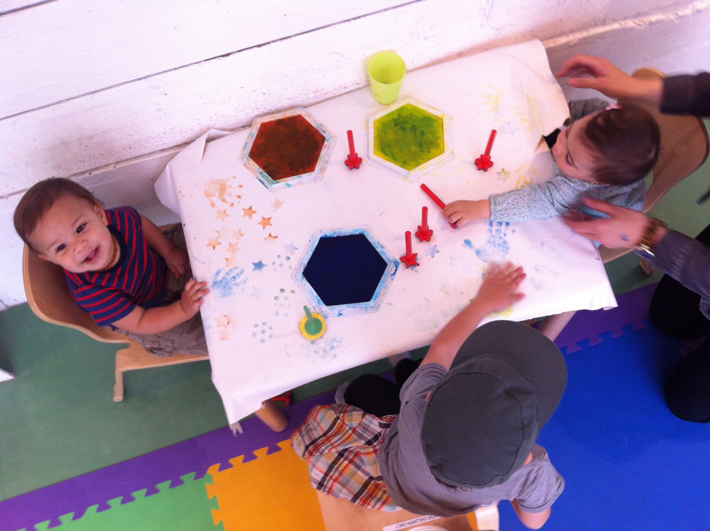 But, when I got home I was so tired. I tried to relax but I started shaking and felt cold. I did my best for about 4 hours playing with Teddy and getting him ready for bed, but when Alex got home from studying he took my temp and it was 102. I had to go to the ER because of the risk of infection so Auntie Jonna came over to watch Teddy. I was so out of it that when Billy and Sarah arrived at the hospital, I saw them and said, "Why are you guys here?" Sarah just laughed and said, "Because you're here." They admitted me and I finally went home around 3:00 am with antibiotics. The infection made things so much harder. The antibiotics were awful on my stomach and I was still having a full fledged "recovery" from the surgery.
I'm still recovering. Physically, emotionally, spiritually. We celebrate the life that we have and the precious boy we have. We mourn the loss of our little one. In all the mess, we continue living and enjoying and praising God for his provision and grace and LOVE.
And Teddy, he just keeps on smiling, growing, learning and changing. It's been an insane month, but in the end We KNOW we are blessed. Blessed with life, friends, and our health. We are even blessed with the things we lose, because we had the joy of them being OURS even if it was just for a while.
To share in the joy that life brings, here are some pictures of our sweet Teddy and some of his adventures this month. Enjoy!