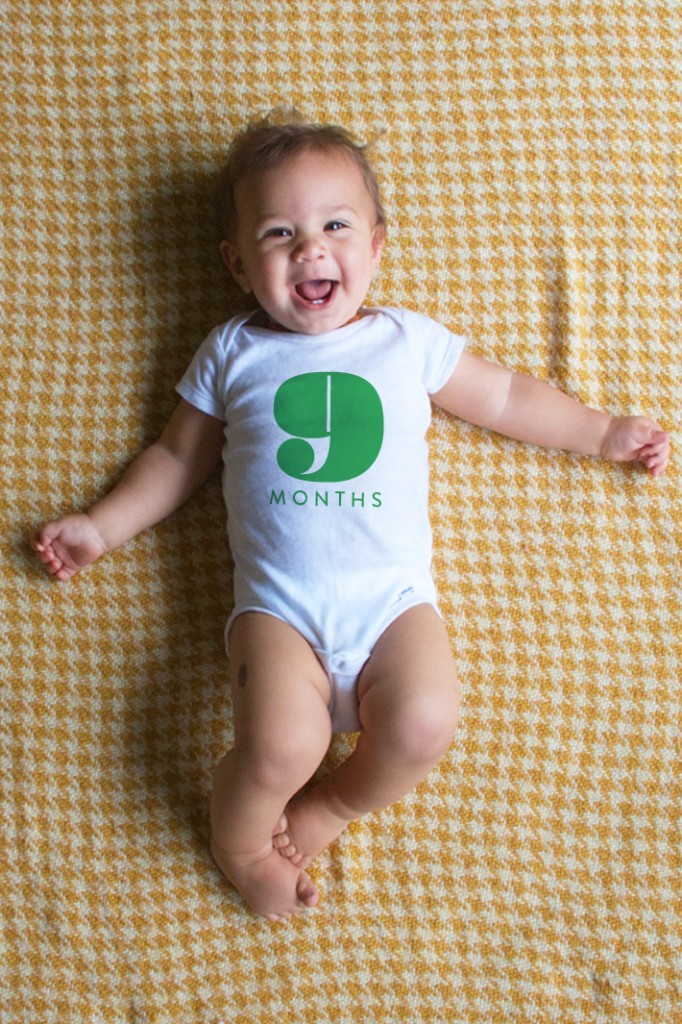 Teddy,
You are nine months old! You spent most of the past month sick. It was so sad. You went from cold to cough to ear infection and right as we saw the beginning of nine months you were hit with an awful flu or some strange bug. We did however have some fun this past month. Even if we spent it mostly locked in our house while you were sick. You always surprise me at how much you're up for anything and you do everything with a smile. YOU are a crazy crawling machine. You have turbo speed now and you squeal as you crawl fast toward your target. You can stand, feed yourself, and even walk along the couch. You love to climb, but hate when you fall. You do not like your naps lately and hate waking up alone. It's been hard to put you down anyway since you've been so sick. I try to remember how sweet it is to hold you, so that way when you grow up and don't want me to anymore I can cherish the times I did.
You are our sunshine Teddy bear and we love you.
*               *                  *
So, this post is so so so late. Just as we ended Teddy's eight months and we're just ringing in nine, we all we're hit with an awful bug. I'm not even sure what it was but it hit with a vengeance and hit all of us. We're still recovering, 4 days later.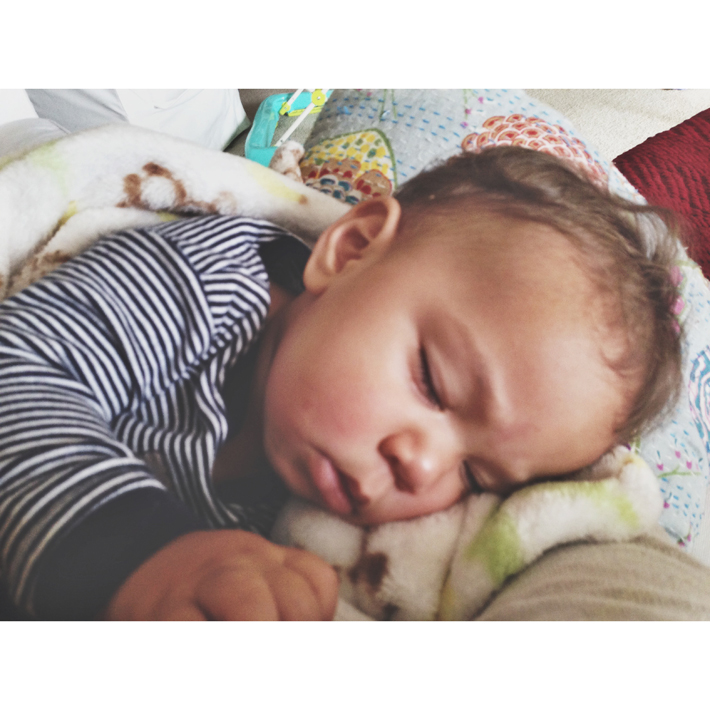 Most of this past month was spent with poor Teddy being sick. We did however get to start off the month with a trip to the beach with Miss Marissa and Auntie Jonna while Dad was in class. Teddy LOVES the beach. It's seriously the sweetest and most wonderful thing to watch. He has no fear of anything, seaweed, crabs, dogs running by, wet sand or even the huge waves that come crashing on the shore. He crawls right into the water, no matter how cold it is. He's so brave and of course that excites and terrifies me all at the same time. I guess that's just a mother's burden to bare though! I'm so excited for him to experience life and learn things. It's so fun now that's he's more mobile and so much more inquisitive.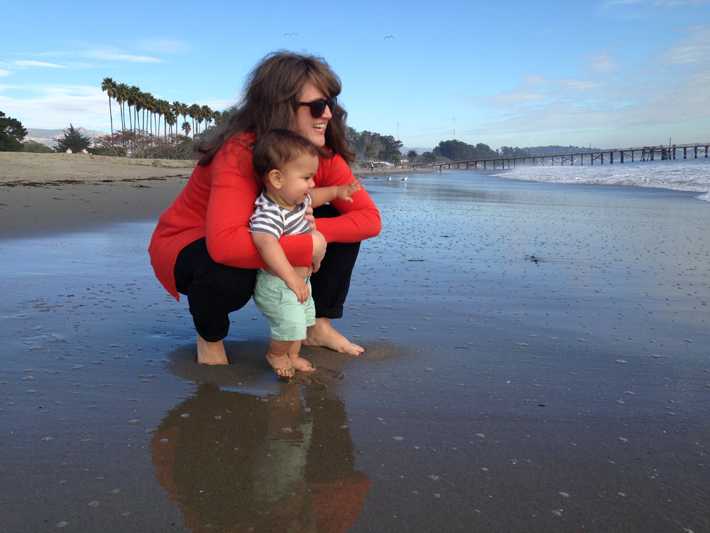 Teddy has started to imitate our gestures and sounds more which is so funny to watch. He can shake his head "no" and he even has started to repeat inflections in our voices. For example, this past month we celebrated Nana's 50th birthday! We had an adult dinner at The Salted Pig in Riverside which was a blast! Then later in the week on her actual birthday I thought I would record Teddy saying "Happy Birthday" to her. I said, "Say, 'Happy Birthday!' And he said, "uhday." I died and so did Nana when she got the super cute video. He's seriously the biggest ray of sunshine.
One day, I was so tired of being quarantined that I decided Teddy and I would go out to breakfast. Just the two of us. Now, we've done this before but it's always sort of been an attempt for me to escape or get him to fall asleep on the way there so I can enjoy some breakfast in peace. But this time was different. I actually wanted to enjoy breakfast with Teddy. And it was really sweet. We went out to IHOP, I got a classic breakfast combo and Teddy ate my pancake. He is now so intent on feeding himself and it's the cutest thing to watch him shovel pieces on pancake into his mouth while he "mmmms". I'd say our first date was a success.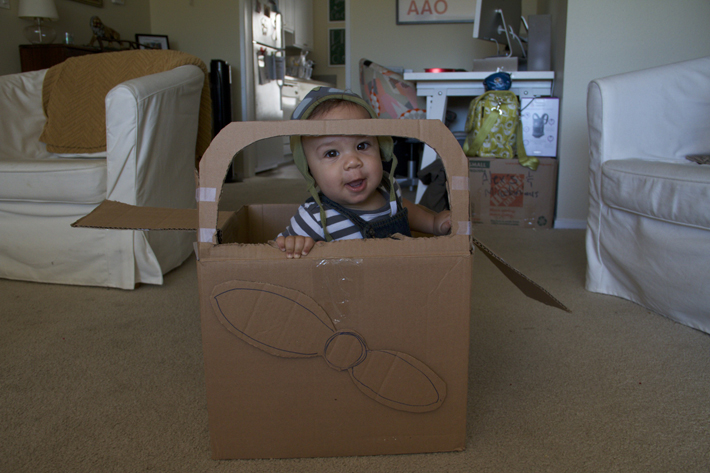 One of the quarantined days, I decided to at least get some house organizing done and found a box in my closet that hadn't been unpacked yet. I remembered how my Dad had made a car from a diaper box when I was little and pushed me around in it (I don't actually remember it, but we have it on video). I also have a friend who makes amazing creations for her two boys out of cardboard and felt inspired. I figured, since we couldn't have a real adventure we would make one! So, I made a plane and put on Teddy's pilot gear from Halloween. The hat barely fit but I had a blast pulling him around while he laughed and laughed.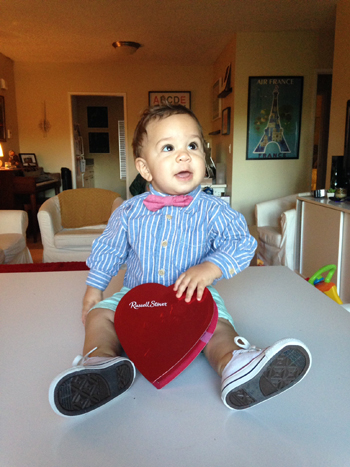 Then, Valentines Day! Each year Alex and I go to Buffalo Wild Wings in protest of Valentine's Day. We kind of don't see the point in the day, to be honest. I want my family members to know everything single day that I love them. Not just on one day of the year with chocolates and flowers. But, this year… We kind of had a reason to celebrate love. Teddy. Teddy had a fun date with Auntie Jonna, who joined us for our ritual. We decided to get Teddy all dressed up and he was a good sport. He even stood on his own for 30 seconds for pictures.
We ended the month with a ditch-day on Friday to celebrate Teddy turning nine months old and truly, to have a whole day together as a family. Since Alex has class every Saturday and I work every Sunday it makes it difficult to plan a whole day outing. So Alex took a PTO day and we had a blast. We "slept in" (meaning until 7:00), and then hit the road. We stopped in Camarillo at our favorite breakfast spot, The Breakfast Cafe.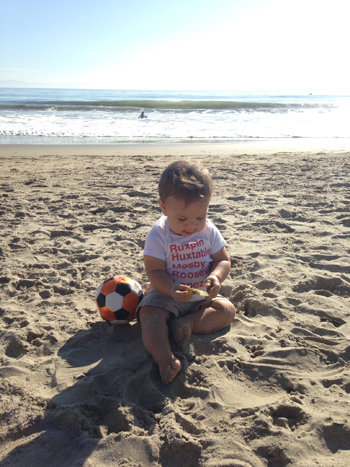 The owner remember us from our frequent visits when we lived down the street and said how big Teddy has gotten. Teddy got and ate his first Mickey Mouse pancake! It was so relaxing to have no agenda and just enjoy the day together. We ended up in Santa Barbara for lunch after some errands and a hike, and then enjoyed the beach (Teddy's favorite). It was a wonderfully slow day. Alex and I got to talk while Teddy slept and we both were able to enjoy time with our little bear.
We love him so much and can't wait for him to continue to grow! Here's hoping for a happy and healthy month nine.