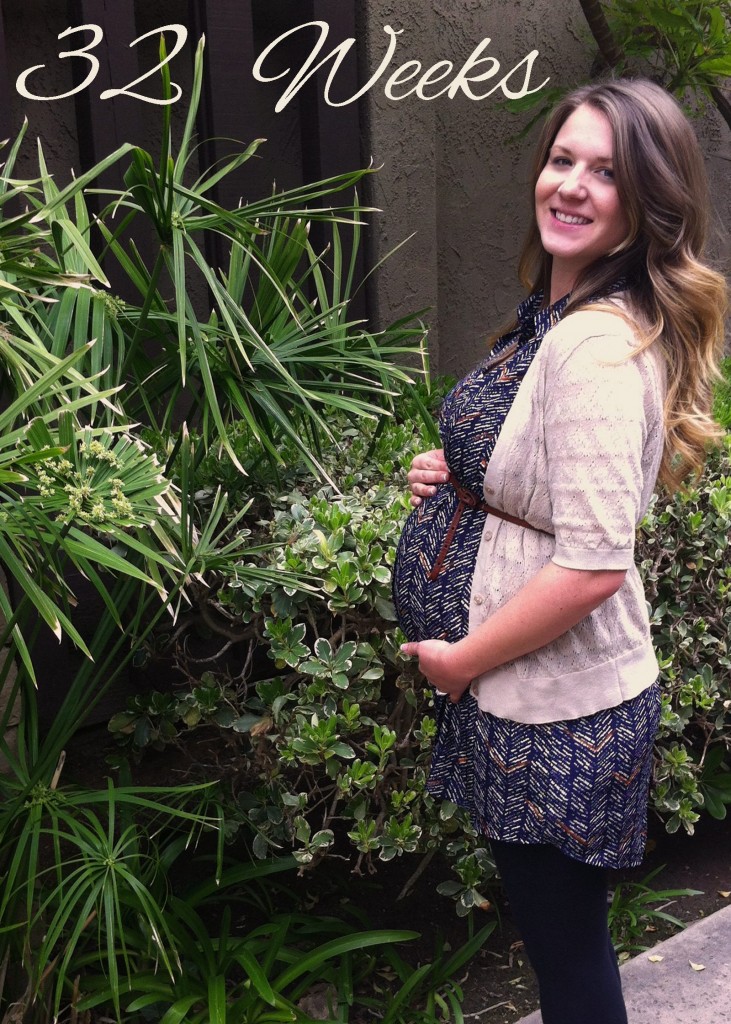 Teddy Boy, only 2 more months until I get to hold you, kiss your cheeks, toes, and tiny fingers. I cannot wait. You are such an active little guy — there's no point in me tracking your movements because you are ALWAYS on the move. Punching my bladder, kicking my ribs, squirming and moving. It's been an amazing experience and I know being your Mommy is going to be a whole new one!
I think about you a lot. I imagine what you're going to look like and act like and hope you are sweet and cuddly guy; which is a lot coming from me because I really don't like to cuddle or hug. I hope to always have your best interests at heart and I am so ready for life to become all about you!
Now, two more months little buddy. Don't get too huge!
*      *      *
Two months left! I am so ready to hold this little guy already. So far third trimester has been my favorite even though the carpal tunnel is still pretty constant and is now accompanied with heartburn and insomnia every night. Even with alllll that, it's still my favorite and I know it's because I will finally get to hold our little guy at the end of it.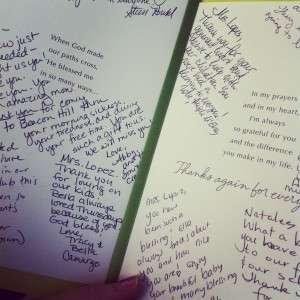 For the past 9 months, I've been volunteering at a local charter school on Mondays and Tuesday in upper grade and then on Thursdays I have been running their Kinderclub. It has been an absolute joy and WONDERFUL training for mommy-hood. On Thursdays I was able to create the whole curriculum, including a craft, which I loved. This past Thursday was my last week and all the kid's families got together to give me a gift card, a box of cookies, and a very sweet card. Seeing all their faces and receiving their warm hugs made it extremely hard to leave, but I am really looking forward to taking the month of April to get everything ready for Teddy's arrival. The kids are also so excited to see Teddy and begged me to bring him with me to the school once I have him.
I am at the point now where I have to see the doctor every two weeks, so the anticipation is mounting! Today was my 32 week check-up and everything looks great. He's head down, has a strong heartbeat and my fluid is good as well. I am just happy that this pregnancy has been as smooth as it has for Teddy. He seems to be pretty happy in there. I would take carpal tunnel, heartburn, insomnia, charlie-horses and throwing up any day over harm coming to him. Even now that the crazy hormones are back where I'm crying one minute and laughing the next.
This coming month I'll be spending most of my time getting ready for his arrival. We've slowly been working on Teddy's corner of the room as well as re-arranging things in the bedroom and living room so we have space for all his clothes, toys, diapers, crib, and changing station. Here's a few pictures of the work in progress:
We purchased a wardrobe from IKEA for all his clothes and we also put in those green bins to store all his toys and other items we find that fit in there. The above picture is our dresser, which will now be Teddy's changing table. The more I look at the pegboard in our room, the more I love it — but it's huge so I think we'll be doing some  re-adjusting. Next to the changing table I hope to have a rocking chair and then right next to my side of the bed, we'd like to have his crib. It's all starting to feel so real and I can't wait to see how it all comes together.
Only 8 more weeks (hopefully) until he will get to enjoy it!
Thank you all so much for your love and support,
Leelo & Ander +1