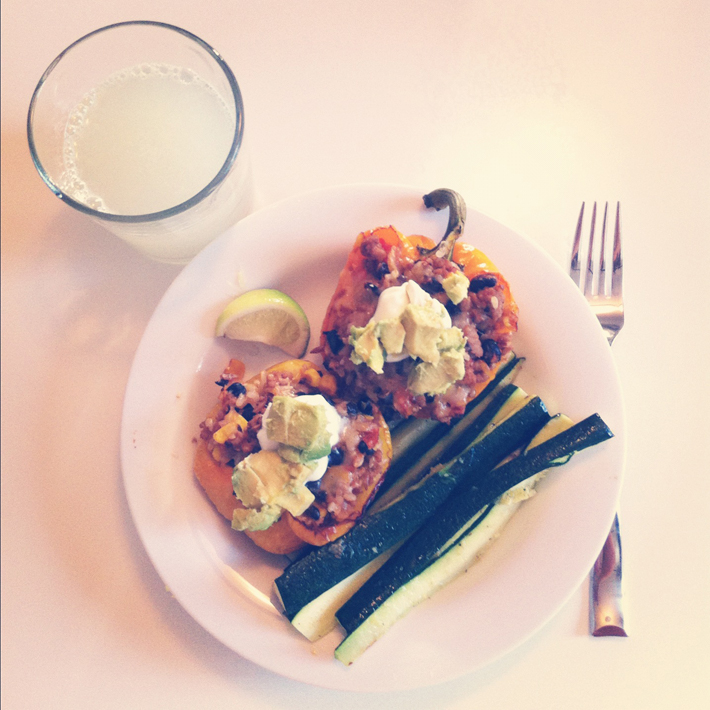 Serving Size: 3-4
Cook Time: 35-40 minutes
What You'll Need:
1/2 lb lean ground turkey breast
1 cup onions
1 heaping tbsp of taco seasoning
2 cups of cooked rice (we used brown)
3-4 organic bell peppers
1 can of black beans
½ cup of corn
1 (16 ounce) jar of salsa
Shredded Cheddar Cheese
Sour cream
Avocado
What You'll Have:
Olive Oil
Taco Seasoning
What You'll Do:
> Preheat the oven to 400 degrees.
> Half bell peppers and seed them.  Coat them in olive oil and place in a baking dish.
> Cook for 20-25 minutes.
> While the bell peppers are cooking, cook turkey meat AND cook the rice (20 mins for white and 40 mins for brown).
> In another pan cook chopped onion until browned. Then add cooked rice, black beans and corn until heated through.
> In a large mixing bowl add the taco seasoning, cooked ground turkey, chopped onions, black beans, corn and rice. Add in the jar of salsa and mix well.
> Stuff the turkey into each half of the bell peppers and place back into the baking dish.
> Cook the peppers for another 15-20 minutes.
> Sprinkle the tops of each pepper with shredded cheddar cheese. Place back in the oven to melt the cheese.
> Top with avocado slices and sour cream just before serving.
Enjoy!
P.S. You might have some stuffing left after — it's perfect to mix with some scrambled eggs in the morning for a Spanish Scramble!
P.P.S. For a vegetarian meal, cut out the meat and add quinoa and sautéed veggies.