If you're like me, eating hot food for lunch in the summer doesn't sound so hot. I find myself craving fruits and salads or tuna sandwiches but I often get bored with the same old salad. So, I thought I would do some research and start mixing it up a bit! This week (and as I find more to make/share) I'll be posting about yummy, awesome, and pretty low cal salads.
First off, my favorite. The first time I had this salad was with my friend Bree at the Glen Ivy Day Spa for her birthday a million years ago. It was magical and tasty and I crave it always. I hope you enjoy.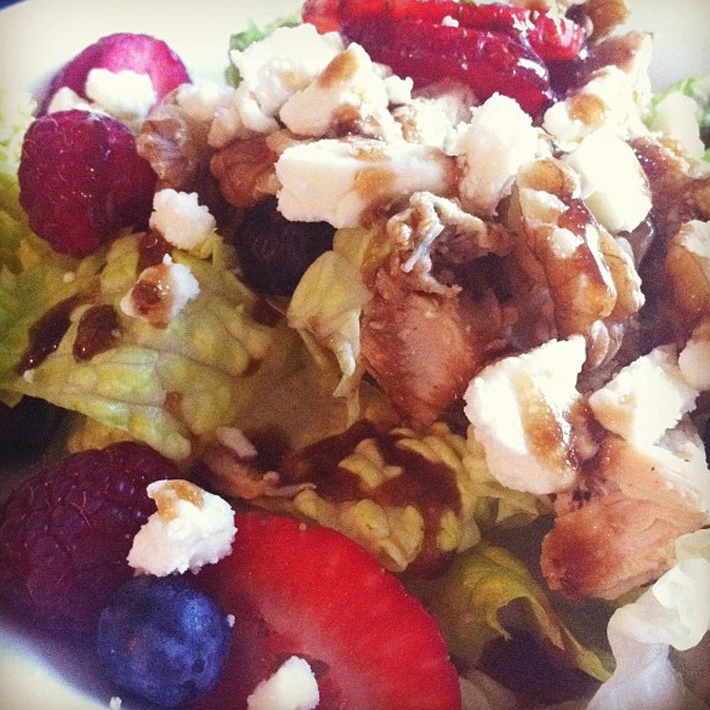 Serving Size: 2
Prep Time: 10-15 minutes
What You'll Need:
Spinach (yes, I'm aware I used romaine in the photo but spinach is where it's at)
Chicken (I buy pre-cooked from TJ's)
Berries (blue, straw, and/or rasp)
Walnuts or Almonds
Red Apples (you can do green if you want, but I like the sweet reds)
Crumbled Feta
Pear Vinaigrette or Balsamic (my fav)
What You'll Do:
> Take two LARGE handfuls of spinach, chop it on a cutting board and place it in a large bowl.
> Cube chicken (that sounds gross — like artificial chicken or something. Nevertheless, do it) layer it on top of the spinach.
> Core and chop the apples. Layer them on.
> Cut up strawberries (if using) and layer them with the raspberries and blueberries.
> Crumble feta cheese on top.
> Sprinkle walnuts or almonds.
> Serve with Champagne Pear Vinaigrette from Trader's (if you do this you actually might not need the feta as there is cheese in the dressing) or Balsamic Vinaigrette.
Enjoy!