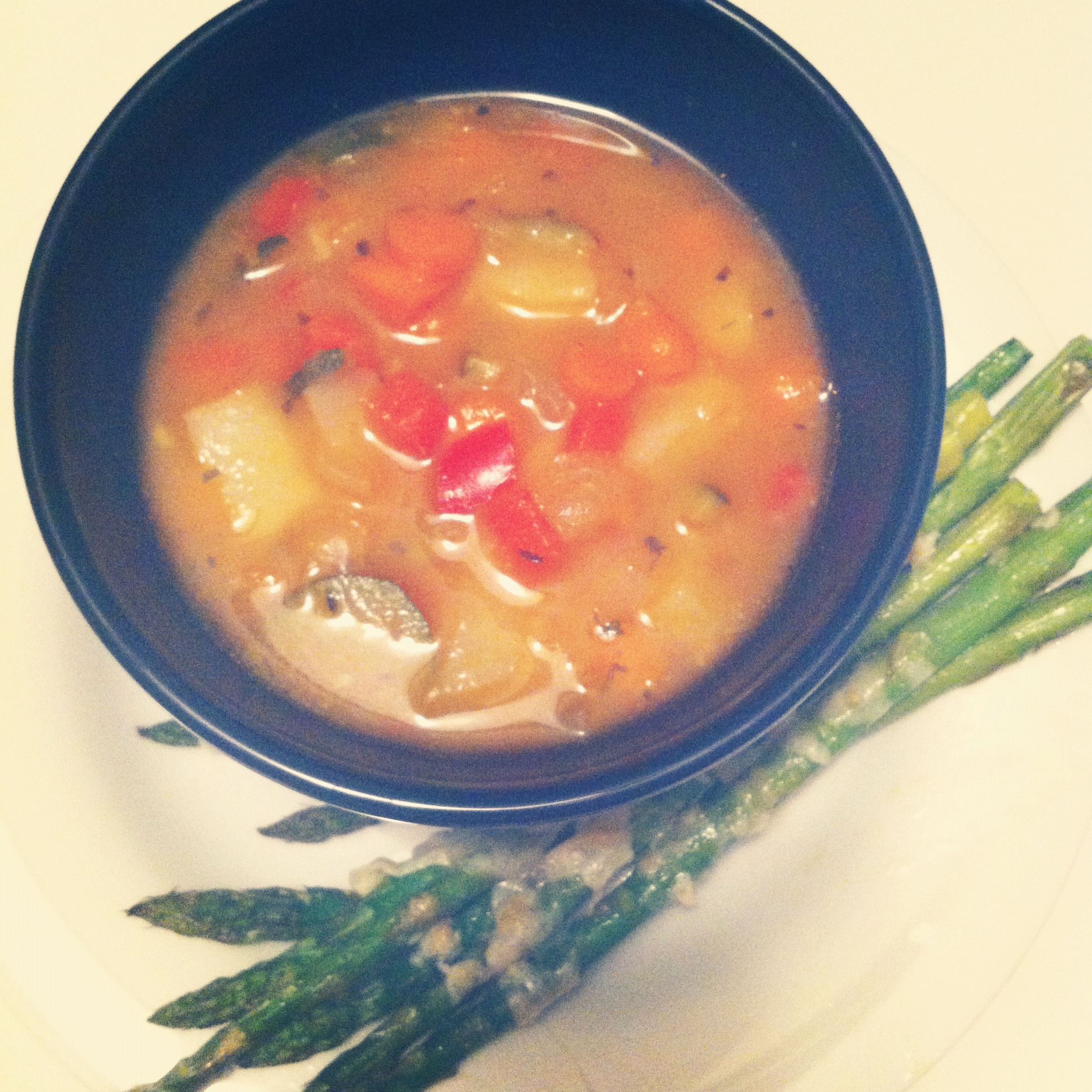 Adapted from NoTakeOut.com
Serves: 4
Cooking Time: 45 min
What You'll Need:
2 Carrots
1 Large Onion
1 Red Bell Pepper
2 Starchy Potatoes (Russett, Yukon)
2 Bunches of Asparagus
2 16oz can of Cannelli Beans
Parmesan Cheese Blend
What You'll Already Have:
Dried Parsley
Dried Mint
Garlic
Red Pepper Flakes
Sea Salt
Black Pepper
Bay Leaves
EVOO
What You'll Do:
> Drain the beans.
> Peel and cut the onion.
> Core and seed the bell pepper.
> Peel and dice carrots.
> Peel and dice potatoes.
> Peel and dice 3 cloves of garlic.
> Put steamer in sauce pan with water.
> Heat 1 tsb. of EVOO in stock pot.
> Add onion, bell pepper, carrots, and garlic. Stir and lightly season with  salt and pepper.
> Cook for 8 minutes, stirring occasionally.
> Add in the beans.
> Add 5 cups of water. If you have any vegetable stock sub a cup of water for a cup of
stock. If not, it's fine — cooks great with water.
> Add 2 bay leaves, 1 tsp. paprika and 1/2 tsp. red pepper flakes, mint and parsley to
taste and 2 tsp. of salt.
> Add potatoes
> Bring to a boil, then reduce to a lively simmer.  Cover partially.
> Turn on the broiler for the asparagus.
> Trim the end of the asparagus and place in the steamer over medium heat.
> Cook for 5 mins.
> Remove from heat and place asparagus in a heatproof dish.
> Cover asparagus in parmesan cheese and place in the broiler.
> As soon as cheese is slightly browned and bubbly, remove from the broiler.
Your soup and asparagus should be done.
Enjoy!